Each year, the National Humanities Center welcomes up to forty scholars from across the humanities and all over the world.
During their time in residence, Fellows are given the freedom to work on their projects while benefiting from the exceptional services of the Center.
The stunning Archie K. Davis building offers private studies, light-filled common areas, and verdant grounds.
The Center also provides scholars with exceptional library services, breakfasts, and lunches in the dining area, and administrative support in organizing seminars and study groups.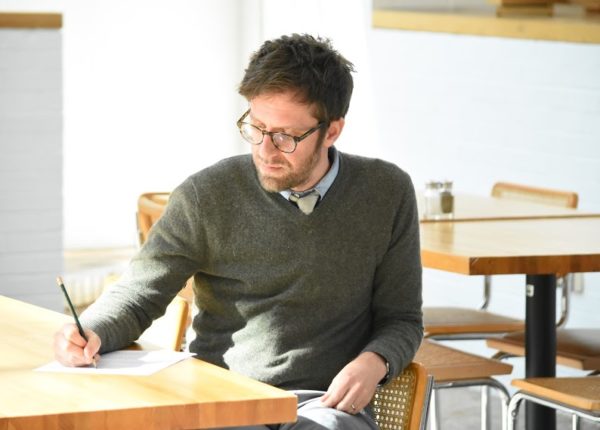 "The major value of the fellowship lies in the freedom it gives to read, work and think independent of the usual pressure of academic life. This is immensely important for scholarship."

David Gilmartin, Fellow, 2017–18
Residential Fellowship Application
The Center will begin accepting applications for the 2021–22 academic year on July 1, 2020 with a deadline of October 8, 2020. Fellowship applicants are asked to complete the online application form and to upload the following documents:
1,000-word project proposal
short bibliography (up to 2 pages)
curriculum vitae (up to 4 pages)
one-page tentative outline of the structure of the project (if the project is a book, provide an outline of chapters; otherwise, give an outline of the components of the project and their progress to date)
Applicants will also be asked to provide names and contact information for three references. We highly recommend applicants read through our Frequently Asked Questions before beginning their application.

Fellowship Eligibility Requirements
Applicants must have a doctorate or equivalent scholarly credentials. Mid-career and senior scholars are encouraged to apply. Emerging scholars with a strong record of peer-reviewed work may also apply. The Center does not support the revision of doctoral dissertations.
In addition to scholars from all fields of the humanities, the Center accepts individuals from the natural and social sciences, the arts, the professions, and public life who are engaged in humanistic projects. See our FAQs for more details on eligibility. For additional information about the application process, watch our webinar.
Scholars enjoy informal conversations during meals at the Center.
The Center hosts a robust program of scholarly events and public programs
The library fills thousands of requests for research materials from collections around the world.
Fellows may arrange to have their home libraries essentially replicated prior to their arrival.
The Center's building provides space for both quiet contemplation and the lively exchange of ideas.
The Center is located in the Triangle, a culturally rich and intellectually vibrant region of central North Carolina.
"It's a beautiful environment, with the right mixture of stillness and sociality."

Ted Underwood, Fellow, 2018–19
Fellowship Support
The stipend amounts for Fellows are individually determined, according to the needs of the scholars and the Center's ability to meet them. See our Frequently Asked Questions for more details.
NHC residential fellowships are supported by the Center's own endowment, private foundation grants, contributions from alumni and friends, and the National Endowment for the Humanities.

By The Numbers, 1978–2020
1479
Fellows in Residence
45
Fields Represented
1673
Books Resulting From Fellowships