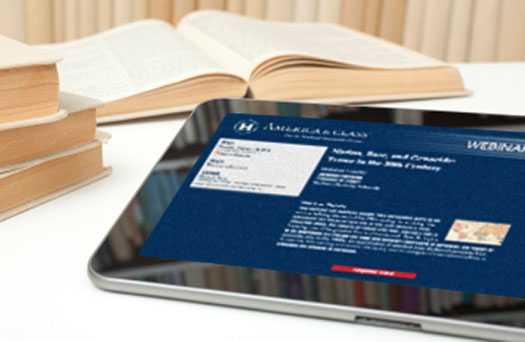 The National Humanities Center has announced its program of spring 2017 professional development webinars for humanities teachers covering a wide range of topics including the cultural history of Islam in America, television and the presidency of John F. Kennedy, understanding the Black Lives Matter movement in its historical context, the poetry of Pulitzer Prize winner Rita Dove, and cultivating philosophical thinking with students.
Led by distinguished scholars, America in Class® webinars offer teachers the opportunity for professional development, exploring historical documents, literary texts, and images in conversation with scholars and other educators from across the United States. Seminar materials are free, online, and available on-demand. To learn more about specific webinars or to register, please follow the links below.
Spring 2017 Webinars from the National Humanities Center
Thursday, January 12, 7:00 p.m.
Teaching Death of a Salesman
Andrew Sofer, Boston College
Thursday, March 9, 7:00 p.m.
Rushmore Series: Roosevelt at Rushmore
Thomas Brown, University of South Carolina
Thursday, January 19, 7:00 p.m.
The Poetry of Rita Dove
Rita Dove, University of Virginia
Thursday, March 16, 7:00 p.m.
Black Lives Matter in Historical Context
Yohoru Williams, Fairfield University
Thursday, January 26, 7:00 p.m.
Islam in America: A Cultural History
Ellen McLarney, Duke University
Thursday, March 30, 7:00 p.m.
A History of Immigration Control
Kelly Lytle Hernandez, UCLA
Thursday, February 9, 7:00 p.m.
Modern Art Comes to America: The Armory Show, 1913
Marshall Price, Nasher Museum of Art at Duke University
Thursday, April 6, 7:00 p.m.
A History of Violence: Mexico and the United States
Elaine Carey, St. Johns University
Thursday, February 16, 7:00 p.m.
Hidden Photos: A New Picture of the Black Struggle for Civil Rights
Martin A. Berger, University of California, Santa Cruz
Thursday, April 13, 7:00 p.m.
Teaching John Steinbeck's The Grapes of Wrath
David Wrobel, Oklahoma University
Thursday, February 23, 7:00 p.m.
Teaching Langston Hughes
Carmella Williams, author of Langston Hughes in the Classroom: "Do Nothin' till You Hear from Me"
Wednesday, April 19, 7:00 p.m.
Cultivating Students' Philosophical Thinking
Dr. Jana Mohr Lone, University of Washington Center for Philosophy for Children
Thursday, March 2, 7:00 p.m.
JFK: The First Television President
Ellen Fitzpatrick, University of New Hampshire
National Humanities Center webinars and other teaching resources, along with its award-winning Lessons, Primary Source archives, and TeacherServe® essays, are designed to support educators in the use of primary sources that help students develop and improve essential skills, including
critical thinking and problem solving
analysis and evaluation of evidence, arguments, claims and beliefs
synthesis of information and arguments.
An archive of previously recorded, on-demand webinars exploring over 100 different topics is also available via NHC Education's YouTube channel.
About the Center
Contact
Don Solomon
Director of Communications
919.406.0120
The National Humanities Center is the world's only independent institute dedicated exclusively to advanced study in all areas of the humanities. Through its residential fellowship program, the Center provides scholars with the resources necessary to generate new knowledge and to further understanding of all forms of cultural expression, social interaction, and human thought. Through its education programs, the Center strengthens teaching on the collegiate and pre-collegiate levels. Through public engagement intimately linked to its scholarly and educational programs, the Center promotes understanding of the humanities and advocates for their foundational role in a democratic society.