January 2 – May 25, 2018
Artist Reception: Saturday, January 27 from 2:00 to 3:30 p.m.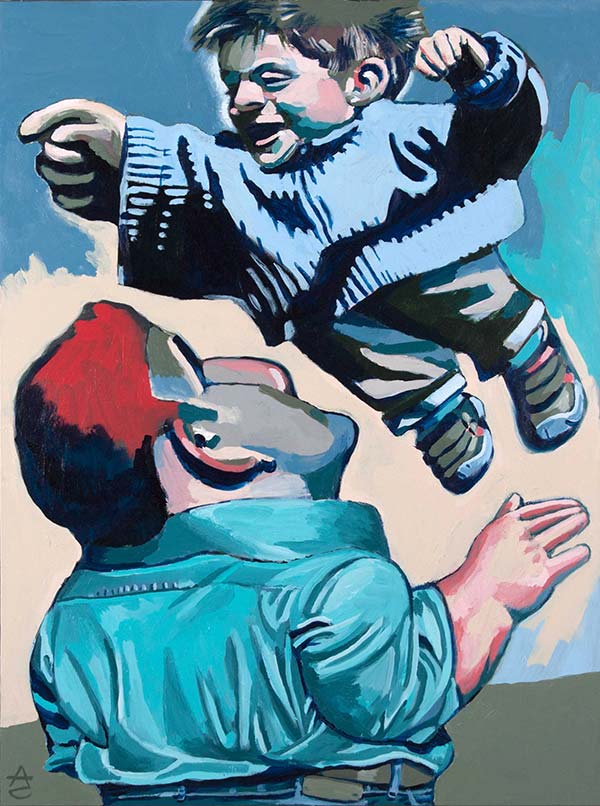 "Sentience" features work by Raleigh artist Adam Cohen whose paintings and drawings invite the viewer to recognize emotional connections to others through visual depictions that "stretch the truth." As Cohen says of the works on display:
We are drawn to particular pieces of art for the same reason we're drawn to other people (and animals, for that matter): an empathic emotional connection. A dissolving of the borders between us. A recognition of another's sentience—their capacity to feel, to suffer—which is, in fact, the basis of all culture and communities.
In my art, I try to create that kind of bond between a figure and the viewer by "stretching the truth." In the same way, that good fiction is truer than fact, I distort forms and descriptive color until something essential is cracked open. I'm searching for my version of that sweet spot on the visual spectrum between photorealism and pure abstraction where a light goes on inside the figure and it comes alive, acquiring layers of history and personality, even if the specifics of those layers are as unknowable to me as they are to any other viewer.

About the Artist
Adam Cohen's professional creative career began early when, in high school, his political cartoons were regularly printed on The Charlotte Observer's editorial pages. He attended the University of North Carolina at Chapel Hill with the hope of joining the ranks of political cartoonists who were his childhood heroes. Then college exposed him to new fields of illustration and fine art that launched his journey as a visual artist.
In Chapel Hill and later while earning an MFA at The Savannah College of Art and Design, he fell in love with figure drawing, and the human form has been central to his artmaking ever since. It was the starting point from which years of visual exploration flowed. He resisted showing this work publicly as he experimented with mediums and content, searching for his own voice while working in other creative fields to support himself and his family. Equally skilled as a writer, Adam's wide-ranging career has included work as an advertising creative director, copywriter, illustrator, comedian, film director, and animator. In each discipline, his focus has been on creating compelling characters whose stories—either stated or suggested—elicit visceral emotional responses.
In recent years, having crossed his "10,000th hour" of apprenticeship, Adam's visual art has come to full fruition. A unique approach to—and love for—composition and color, combined with his continued passion for character development, has now taken center stage in his creative life, and he's generating work at an exciting pace. These are the images that have been clawing to emerge for decades.
Adam currently lives in Raleigh, NC with his wife and two children.