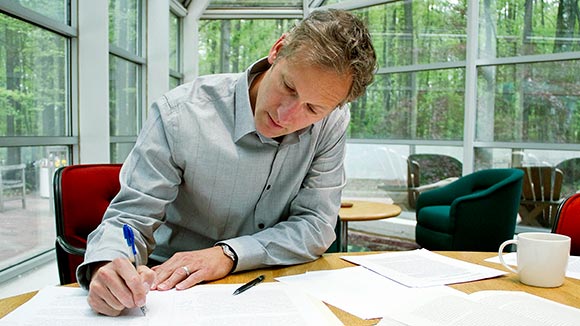 The National Humanities Center is pleased to announce the appointment of 37 Fellows for the academic year 2019–20. These leading scholars will come to the Center from universities and colleges in 14 U.S. states, as well as from Singapore, Tanzania, the United Kingdom, and Zimbabwe. Chosen from 647 applicants, they represent humanistic scholarship in African studies; American studies; Asian studies; classics; comparative literature; East Asian languages and literature; English language and literature; environmental studies; ethnic studies; feminist, gender, and sexuality studies; film and media studies; history; history of art and architecture; Latin American studies; music history and musicology; philosophy; religion; and rhetoric. Each Fellow will work on an individual research project and will have the opportunity to share ideas in seminars, lectures, and conferences at the Center.
The Center will begin accepting applications for the 2020–21 academic year on July 1, 2019 with a deadline of October 10, 2019. Details about NHC fellowships, including application instructions, are available
here
.
These newly appointed Fellows will constitute the forty-second class of resident scholars to be admitted since the Center opened in 1978. Robert D. Newman, president and director of the National Humanities Center, said, "These outstanding scholars, who were selected from the record number of applications we received this year, are conducting exciting work that promises to influence thinking in a wide range of disciplines. We are pleased to support their efforts and look forward to their arrival in September."
The National Humanities Center will award a total of $1,400,000 in fellowship grants to enable scholars to take leave from their normal academic duties and pursue research at the Center. This funding is provided from the Center's endowment; by grants from the Andrew W. Mellon Foundation, the American Council of Learned Societies, the Henry Luce Foundation, and the National Endowment for the Humanities; and by contributions from alumni and friends of the Center.
About the National Humanities Center
The National Humanities Center is the world's only independent institute dedicated exclusively to advanced study in all areas of the humanities. Governed by a distinguished Board of Trustees from academic, professional, and public life, the Center began operation in 1978 and offers programs to encourage excellence in scholarship, improve teaching, and increase public appreciation for, and engagement with, the humanities.

Contact
Don Solomon
Director of Communications
919.406.0120
National Humanities Center Fellows 2019–2020
Candace Bailey (Music History and Musicology, North Carolina Central University) Women, Music, and the Performance of Gentility in the Mid-Nineteenth Century South (Mellon-HBCU Fellowship)
John Levi Barnard (Environmental Studies, University of Illinois at Urbana-Champaign) The Edible and the Endangered: Food, Empire, and the Biopolitics of Extinction (Donnelley Family Fellowship)
Jill C. Bender (History, University of North Carolina at Greensboro) Assisted Emigrants: Irish Female Migration Projects and the British Empire (Trustees' Fellowship)
Ian Burney (History, University of Manchester) A History of Innocence: Erle Stanley Gardner, the Court of Last Resort, and the Pursuit of Wrongful Conviction in Cold War America (GlaxoSmithKline Fellowship)
Marianne Constable (Rhetoric, University of California, Berkeley) Chicago Husband-Killing and the New Unwritten Law (William C. and Ida Friday Fellowship)
Sonja Drimmer (History of Art and Architecture, University of Massachusetts Amherst) Art and Political Visuality in Late Medieval England (Carl and Lily Pforzheimer Foundation Fellowship)
Olga Dror (History, Texas A&M University) Ho Chi Minh's Cult in Vietnamese Statehood (Henry Luce Fellowship)
Xiaoping Fang (History, Nanyang Technological University, Singapore) Global Pandemic, Local Politics: Disease and Social Restructuring in Mao's China (Luce East Asia Fellowship)
Harris Feinsod (Comparative Literature, Northwestern University) Into Steam: The Global Imaginaries of Maritime Modernism (Ruth W. and A. Morris Williams, Jr. Fellowship)
Giuseppe Gerbino (Music History and Musicology, Columbia University) Music and Mind in the Renaissance (Birkelund Fellowship)
Victor Goldgel-Carballo (Latin American Studies, University of Wisconsin-Madison) Passing as Open Secret: Race and Fictions of Identity in Nineteenth-Century Cuba (ACLS Burkhardt Fellowship)
Marsha Gordon (Film and Media Studies, North Carolina State University) Leftover Ladies: Ursula Parrott and the Emergence of the Modern Woman (M. H. Abrams Fellowship)
Mohsen Kadivar (Religion, Duke University) Islamic Theocracy in the Secular Age (Duke Endowment Fellowship)
Agnes Kefeli (History, Arizona State University) Re-Enchanting the Eurasian Steppe: Eco-Nationalism and Eschatology in Tatar Literature, 1960-present (Benjamin N. Duke Fellowship of the Research Triangle Foundation)
Mary Katrina Krizan (Philosophy, University of Wisconsin-La Crosse) Aristotle's Material Elements (Philip L. Quinn Fellowship)
Michele Lamprakos (History of Art and Architecture, University of Maryland, College Park) Memento Mauri: The Afterlife of the Great Mosque of Cordoba (NEH Fellowship; Rockefeller Foundation Fellowship)
Seung-joon Lee (History, National University of Singapore) Revolutions at the Canteens: Labor, Energy, and the Politics of Eating in Industrial China (Luce East Asia Fellowship)
Daniel Livesay (History, Claremont McKenna College) Endless Bondage: Old Age in New World Slavery (Anthony E. Kaye Fellowship)
Pamela Lothspeich (Asian Studies, University of North Carolina at Chapel Hill) Lila Affects: Power, Masculinity, and Sociality in a Vernacular Theatre (Robert F. and Margaret S. Goheen Fellowship)
Emily Lutenski (American Studies, Saint Louis University) Modern Lovers: Margery Latimer, Jean Toomer, and Race in American Culture (Fellows' Fellowship)
Katherine Mellen Charron (History, North Carolina State University) "Possibility Thinkers": Rural Black Power and Women's Liberation Politics after 1965 (Founders' Fellowship; Josephus Daniels Fellowship of the Research Triangle Foundation)
Simon Middleton (History, College of William & Mary) The Price of the People: Money and Power in Early America (John G. Medlin, Jr. Fellowship)
Melissa Mueller (Classics, University of Massachusetts Amherst) Sappho and Homer: A Reparative Reading (ACLS Burkhardt Fellowship)
Gibson Ncube (Feminist, Gender, and Sexuality Studies, University of Zimbabwe) Bodies and/as Texts: Queer Representations in African Screens (STIAS Iso Lomso Fellowship)
Chérie Ndaliko (African Studies, University of North Carolina at Chapel Hill) Archival Mutations: Decomposing Aesthetics of Atrocity in Congo (Delta Delta Delta Fellowship; Frank H. Kenan Fellowship)
Ann Wierda Rowland (English Language and Literature, University of Kansas) Reading Keats in America (Hurford Family Fellowship)
Martha Rust (English Language and Literature, New York University) Item: Lists and the Poetics of Reckoning in Late Medieval England (NEH Fellowship; Rockefeller Foundation Fellowship)
Iman Sanga (Music History and Musicology, University of Dar es Salaam, Tanzania) Musical Literary Imagination: Musical Figures, Swahili Literature and Postcolonial Social Life in Tanzania (Kent R. Mullikin Fellowship)
Shuang Shen (East Asian Languages and Literature, The Pennsylvania State University) Cold War and Sinophone Literature at the Borders (John E. Sawyer Fellowship; Walter Hines Page Fellowship of the Research Triangle Foundation)
Christina Snyder (History, The Pennsylvania State University) Slavery after the Civil War: The Slow Death and Many Afterlives of Bondage (John Hope Franklin Fellowship)
Angela Stuesse (Ethnic Studies, University of North Carolina at Chapel Hill) #FreeDany: Dreaming and Detention in Dixie (Delta Delta Delta Fellowship; NEH Fellowship)
Dennis Trout (Classics, University of Missouri) Monumental Verse: Poetry, Cityscape, and Authority in Late Ancient Rome (Archie K. Davis Fellowship)
James A. van Dyke (History of Art and Architecture, University of Missouri) The Social Production of Otto Dix (Allen W. Clowes Fellowship)
C. J. W.-L. Wee (English Language and Literature, Nanyang Technological University, Singapore) Imagining Cultural Asia: Art Exhibitions, Popular Culture, and a Regional Contemporary (Luce East Asia Fellowship)
Jennifer D. Williams (English Language and Literature, Howard University) Intimate Cities: Black Women's Literature and Urban Segregation (Mellon-HBCU Fellowship)
Yolonda Y. Wilson (Philosophy, Howard University) Black Death: Racial Justice, Priority-Setting, and Care at the End of Life (Mellon-HBCU Fellowship)
Alexia Yates (History, University of Manchester) Rise of the Rentier: France and the Making of Financial Modernity, 1830-1930 (William J. Bouwsma Fellowship)