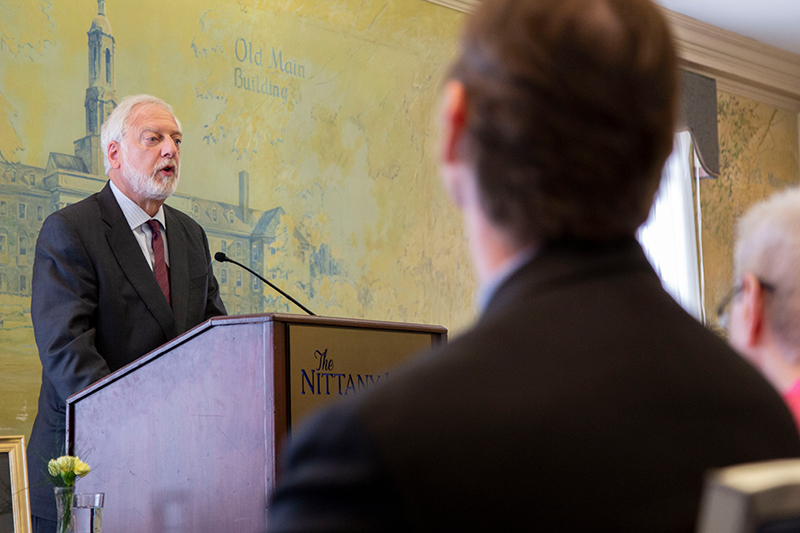 Next month, National Humanities Center President and Director Robert D. Newman will be honored as a distinguished alumnus of The University of North Carolina at Chapel Hill where he received his Ph.D. in English. Newman will be recognized along with Big Ten Commissioner James E. Delany, reporter Nikole S. Hannah-Jones, and writer Jill C. McCorkle.
This follows closely on the heels of another honor Newman received in April when he was the inaugural recipient of a distinguished alumnus award from the Humanities Institute at Penn State. Newman received his B.A. in English from Penn State in 1972 where he was a member of the first class of what was then known as the Honors program in Liberal Arts.
Speaking at the Institute's "Annual Event Celebrating the Humanities," Newman discussed how his education at Penn State galvanized his focus in the humanities and helped set the course for his future career. "My education at Penn State helped launch me on what has been my life's journey as a scholar, teacher, and administrator, all the while embracing the humanities' promotion of the public good by interrogating what is and imagining what might be. Thank you very much for this deeply moving and much appreciated honor."
Newman will be presented with the Distinguished Alumnus Award from UNC-Chapel Hill on October 12, 2019, as part of campus-wide University Day celebrations.