Program Uses Literature to Help Veterans Understand Their Experiences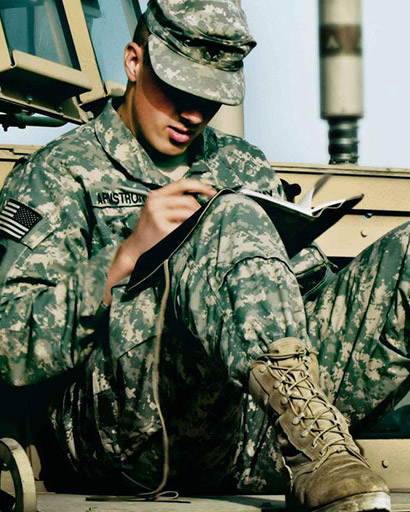 DURHAM, NC – The National Humanities Center and the Durham Veterans Affairs Health Care System are seeking participants for a new program for military Veterans and their families in eastern North Carolina. "Reading Our Stories: Exploring the Veteran's Experience through Literature," will give Veterans an opportunity to more deeply reflect on their service—what it means to them and to the country—by examining and discussing literary texts. Groups will meet in Raleigh, Durham, and Greenville beginning in January 2017.
This effort is one of several discussion-based programs receiving support in communities across the United States from the National Endowment for the Humanities as part of its program, "Dialogues on the Experience of War."

"Reading Our Stories" has been made possible by a major grant from the National Endowment for the Humanities: Exploring the Human Endeavor.
Participants in the groups will consider how storytellers from ancient times to the present day have interpreted military values—patriotism, duty, loyalty, sacrifice, and heroism. They will also examine what happens in combat and how combat affects soldiers and, through them, family and friends. They will also explore how the nation remembers, honors, and sometimes exploits Veterans' service.
Raleigh and Greenville groups will be open to all Veterans and their family members. The Durham group will focus on the experience of women Veterans. Enrollment in the groups is limited. To register and to obtain information about dates, times, and locations, interested participants are encouraged to go to nationalhumanitiescenter.org/veterans or call the National Humanities Center at 919-406-0123.
About the Center
Contact
Don Solomon
Director of Communications
919.406.0120
The National Humanities Center is the world's only independent institute dedicated exclusively to advanced study in all areas of the humanities. Through its residential fellowship program, the Center provides scholars with the resources necessary to generate new knowledge and to further understanding of all forms of cultural expression, social interaction, and human thought. Through its education programs, the Center strengthens teaching on the collegiate and pre-collegiate levels. Through public engagement intimately linked to its scholarly and educational programs, the Center promotes understanding of the humanities and advocates for their foundational role in a democratic society.
About the Durham VAMC
For information about the Durham Veterans Affairs Medical Center, contact Sharonda Pearson, Durham VA Health Care System public affairs officer, at (919) 286-0411 (x6986) or Sharonda.Pearson@va.gov.