At its recent meeting, the Board of Trustees of the National Humanities Center (NHC) elected Yolonda Y. Wilson, PhD (NHC Fellow, 2019–20) as the Center's newest trustee.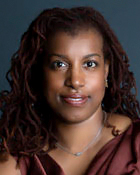 Wilson is a philosopher whose work focuses primarily on African American political philosophy, bioethics, feminist philosophy, law and morality, and related topics. She currently serves as associate professor in the Albert Gnaegi Center for Health Care Ethics at Saint Louis University where she also is an affiliated faculty member in the Department of Philosophy and the Department of African American Studies. She previously was associate professor of philosophy at Howard University where she also served as chair of the Division of Humanities in the College of Arts and Sciences. She has also worked as a visiting scholar at Duke University and at the National Institutes of Health. Dr. Wilson's scholarly work has been recognized and supported with fellowships from Howard University, the American Philosophical Association, The OpEd Project, and the National Humanities Center, among others.
An active public scholar, Wilson was the recipient of the American Philosophical Association's Committee on Public Philosophy Op-Ed Award in 2021. Her writing on issues related to bioethics, race, and gender have appeared in The Hastings Bioethics Forum, The Conversation, Los Angeles Times, Chicago Tribune, Salon.com, and PhillyVoice.com. Her article for The Conversation, "Why Black Women's Experiences of #MeToo Are Different," was republished internationally and forms the basis for an edited volume on feminist philosophy and #MeToo. Her media appearances include outlets such as Al Jazeera English and The Canadian Broadcasting Corporation (CBC) Radio.
"We are delighted to have Yolonda join the Center's board," said NHC president and director, Robert D. Newman. "Having been a Fellow here in 2019–20 and also having served as an expert contributor in our public engagement activities, Yolonda has a keen appreciation for the Center's role in supporting scholarly excellence and in championing the humanities in the wider world. As a deeply respected ethicist operating at the junction of public policy, health, and social justice, she brings valuable perspective to the work we are doing, and we could not be more pleased to have the benefit of her experience, energy, and wisdom."
About the National Humanities Center
The National Humanities Center is the world's only independent institute dedicated exclusively to advanced study in all areas of the humanities. Through its residential fellowship program, the Center provides scholars with the resources necessary to generate new knowledge and to further understanding of all forms of cultural expression, social interaction, and human thought. Through its education programs, the Center strengthens teaching on the collegiate and pre-collegiate levels. Through public engagement intimately linked to its scholarly and educational programs, the Center promotes understanding of the humanities and advocates for their foundational role in a democratic society.
Contact
Don Solomon
Director of Communications
919.406.0120