Ungraspable?: Depictions of Home in African American Literature
John Hope Franklin Fellowship, 2018–19

Literary scholar and cultural critic Trudier Harris has gained acclaim for her work on African American writers across the centuries of their creativity in America. She has focused book-length studies on single authors and historical figures, namely James Baldwin, Toni Morrison, and Martin Luther King Jr., and thematic studies on such topics as the complexities of strength in African American literature, the impact of geography upon African American literary works, literary portrayals of domestic workers, and the attraction of black writers to representations of lynching. Her research focuses also include folk in/and literature and southern African American identity and experience. Growing up as an African American female in the segregated South, Harris learned to overcome obstacles and appreciate the family and community values generated by such restrictions.
Harris's literary studies of African American writers and experiences have brought her critical praise. In particular, her respect for strong women such as her mother inspired her study of African American literary representations of such figures, which she published as Saints, Sinners, Saviors: Strong Black Women in African American Literature (2001). Harris's participation in activities such as "porch-sitting," where the porch becomes a story-telling space that brings together the private and public worlds of the black community, resulted in her study, The Power of the Porch: The Storyteller's Craft in Zora Neale Hurston, Gloria Naylor, and Randall Kenan (1996). Her memoir, Summer Snow, which critically reflects on and celebrates her life in Tuscaloosa and beyond, was published in 2003.

"Aborted Rituals of Communion: Food as Drugs and Drugs as Food in Jesmyn Ward's Where the Line Bleeds." Xavier Review Special Issue on Jesmyn Ward, edited by Robin Vander and Thomas Bonner Jr., 38:2 (Fall 2018): 34-49. Available January 2019.
"Aun' Peggy: Charles Chesnutt's Vampire Slayer?" Forthcoming Summer 2019 in a special issue of the North Carolina Literary Review on North Carolina writers.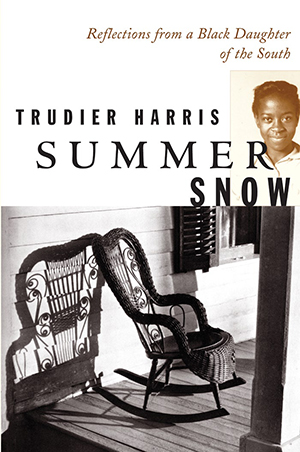 Harris, Trudier. Martin Luther King Jr., Heroism, and African American Literature. Tuscaloosa: The University of Alabama Press, 2014.
Harris, Trudier. The Scary Mason-Dixon Line: African American Writers and the South. Baton Rouge : Louisiana State University Press, 2009.
Harris, Trudier. Summer Snow: Reflections from a Black Daughter of the South. Boston: Beacon Press, 2003.
Harris, Trudier. South of Tradition: Essays on African American Literature. Athens: University of Georgia Press, 2002.
Harris, Trudier. Saints, Sinners, Saviors: Strong Black Women in African American Literature. New York: Palgrave, 2001.