Edited by Derek Attridge (NHC Fellow 2014–15; 2016–17) and Kai Easton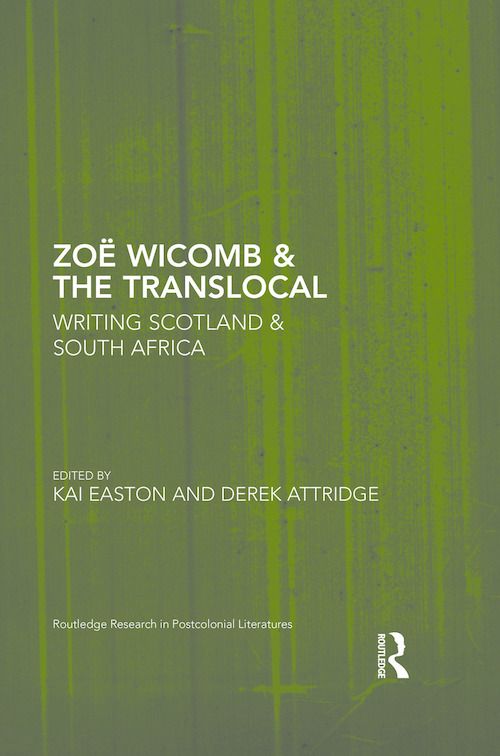 New York: Routledge, 2017
From the publisher's description:
This is the first book on the fiction of Zoë Wicomb, a writer long at the forefront of the South African canon and whose international stature was firmly secured with the award of an inaugural Windham Campbell prize at Yale in 2013. It brings together interdisciplinary essays from the UK, USA, South Africa, and Australia, demonstrating Wicomb's importance as a novelist, short-story writer, and critic. The central focus of the volume is the translocal, a term that navigates the complex and shifting relations between disparate localities, respecting the situatedness of each locality within its immediate geopolitical context, while investigating the connections and contrasts that operate between them. In Wicomb's case, her work stems from a dual allegiance to two localities, both in her fiction as in her life: South Africa's Western Cape and the west of Scotland. In tracking the relations, contemporary and historical, between these sites, her fiction reveals a consistent interest in and interrogation of home and belonging, space and place; it also offers telling insights into questions of race and gender. The historical processes of colonization and migration that have produced translocal connections of this kind are central to postcolonial studies, to which this book makes a significant contribution. Exploring the visual and cartographical, and extending debates on the transnational and cosmopolitan that are currently taking place across disciplines, including literary studies, geography, history, politics, and anthropology, the collection covers the range of Wicomb's work. It also features an unanthologised essay by Wicomb herself, an interview, and a suite of photographs by Sophia Klaase, whose images of Namaqualand inspired Wicomb's most recent novel, October.
Subjects
Literary Criticism
/
Transnationalism
/
Zoë Wicomb
/
Scotland
/
---
Attridge, Derek (NHC Fellow 2014–15; 2016–17), ed. Zoë Wicomb and the Translocal: Writing Scotland and South Africa. Edited by Derek Attridge and Kai Easton. Routledge Research in Postcolonial Literature. New York: Routledge, 2017.