By Stanley Chojnacki (NHC Fellow, 1989–90)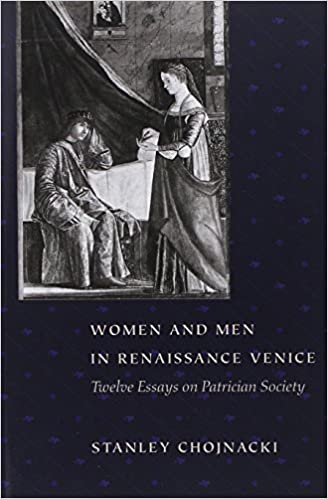 Baltimore: Johns Hopkins University Press, 2000
From the publisher's description:
In Women and Men in Renaissance Venice Stanley Chojnacki explores the central role played by women in holding Venetian patrician society together. Family relations, marriages, and dowries were the areas in which women interacted dynamically with men. The three parts of the book discuss the involvement of the state in those interactions; the social and economic consequences for women; and their unexpectedly varied consequences for men of the patriciate.
The society Chojnacki describes is at once socially complex and highly regulated. On the one hand, women of the Venetian nobility, like patrician women in other cities, were subordinate to their fathers and husbands. But unlike their counterparts elsewhere, Venetian patrician women exercised much control over their own wealth and property and were key players in family strategies. Thanks to advantageous state regulations regarding dowries and marriage practices, Venetian women influenced their fathers' financial and social choices, which in turn affected their fathers' and husbands' attitudes and behavior toward them. Because limited family resources favored some daughters' marriage prospects at the expense of their sisters', the family and marriage practices of the Venetian nobles led to a range of vocations for women, as well as for men.
Subjects
Gender and Sexuality
/
History
/
Renaissance Period
/
Italian History
/
Social History
/
---
Chojnacki, Stanley (NHC Fellow, 1989–90). Women and Men in Renaissance Venice: Twelve Essays on Patrician Society. Baltimore: Johns Hopkins University Press, 2000.