By Madeleine Dobie (NHC Fellow, 2005–06)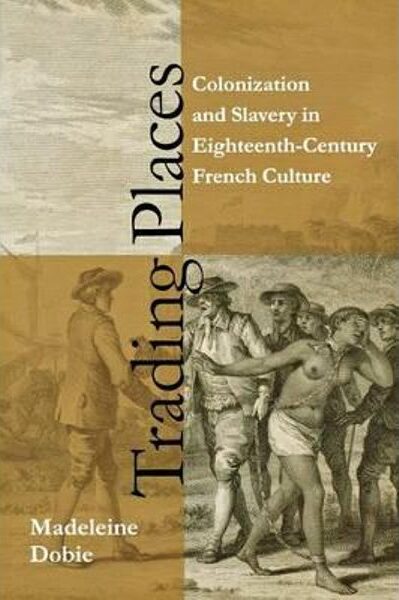 Ithaca, NY: Cornell University Press, 2010
From the publisher's description:
In Trading Places, Madeleine Dobie explores the place of the colonial world in the culture of the French Enlightenment. She shows that until a turning point in the late 1760s questions of colonization and slavery occupied a very marginal position in literature, philosophy, and material and visual culture. In an exploration of the causes and modalities of this silence, Dobie traces the displacement of colonial questions onto two more familiar—and less ethically challenging—aspects of Enlightenment thought: exoticization of the Orient and fascination with indigenous Amerindian cultures. Expanding the critical analysis of the cultural imprint of colonization to encompass commodities as well as texts, Dobie considers how tropical raw materials were integrated into French material culture. In an original exploration of the textile and furniture industries Dobie considers consumer goods both as sites of representation and as vestiges of the labor of the enslaved. Turning to the closing decades of the eighteenth century, Dobie considers how silence evolved into discourse. She argues that sustained examination of the colonial order was made possible by the rise of economic liberalism, which attacked the prevailing mercantilist doctrine and formulated new perspectives on agriculture, labor (including slavery), commerce, and global markets. Questioning recent accounts of late Enlightenment "anticolonialism," she shows that late eighteenth-century French philosophers opposed slavery while advocating the expansion of a "liberalized" colonial order. Innovative and interdisciplinary, Trading Places combines literary and historical analysis with new research into political economy and material culture.
Subjects
Literature
/
History
/
Colonialism
/
Age of Enlightenment
/
Slavery
/
Cultural History
/
Orientalism
/
French Imperialism
/
French Literature
/
---
Dobie, Madeleine (NHC Fellow, 2005–06). Trading Places: Colonization and Slavery in Eighteenth-Century French Culture. Ithaca, NY: Cornell University Press, 2010.