By Elizabeth L. Krause (NHC Fellow, 2013–14)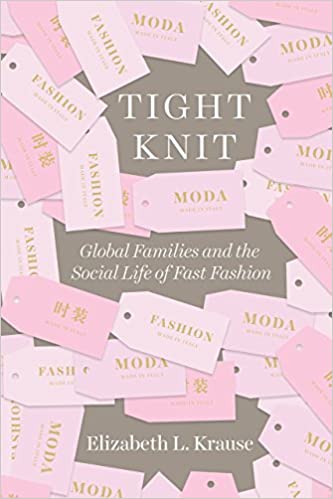 Chicago: The University of Chicago Press, 2018
From the publisher's description:
The coveted "Made in Italy" label calls to mind visions of nimble-fingered Italian tailors lovingly sewing elegant, high-end clothing. The phrase evokes a sense of authenticity, heritage, and rustic charm. Yet, as Elizabeth L. Krause uncovers in Tight Knit, Chinese migrants are the ones sewing "Made in Italy" labels into low-cost items for a thriving fast-fashion industry—all the while adding new patterns to the social fabric of Italy's iconic industry.
Krause offers a revelatory look into how families involved in the fashion industry are coping with globalization based on longterm research in Prato, the historic hub of textile production in the heart of metropolitan Tuscany. She brings to the fore the tensions—over value, money, beauty, family, care, and belonging—that are reaching a boiling point as the country struggles to deal with the same migration pressures that are triggering backlash all over Europe and North America. Tight Knit tells a fascinating story about the heterogeneity of contemporary capitalism that will interest social scientists, immigration experts, and anyone curious about how globalization is changing the most basic of human conditions—making a living and making a life.
Subjects
Economics
/
Sociology
/
Clothing
/
Textiles
/
Industry
/
Fashion Design
/
Globalization
/
Immigration
/
Factory Workers
/
Chinese People
/
---
Krause, Elizabeth L. (NHC Fellow, 2013–14). Tight Knit: Global Families and the Social Life of Fast Fashion. Chicago: The University of Chicago Press, 2018.