By John L. Jackson, Jr. (NHC Fellow, 2005–06)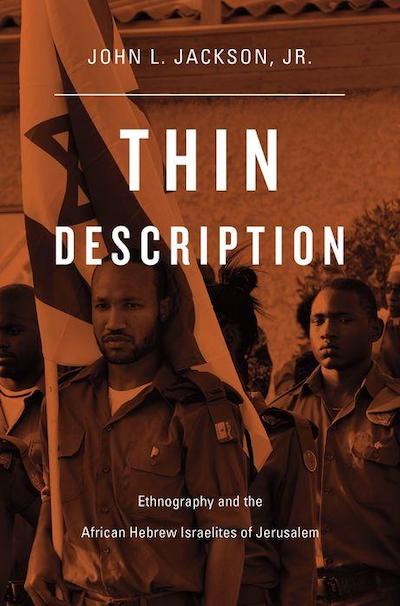 Cambridge, MA: Harvard University Press, 2013
From the publisher's description:
The African Hebrew Israelites of Jerusalem are often dismissed as a fringe cult for their beliefs that African Americans are descendants of the ancient Israelites and that veganism leads to immortality. But John L. Jackson questions what "fringe" means in a world where cultural practices of every stripe circulate freely on the Internet. In this poignant and sophisticated examination of the limits of ethnography, the reader is invited into the visionary, sometimes vexing world of the AHIJ. Jackson challenges what Clifford Geertz called the "thick description" of anthropological research through a multidisciplinary investigation of how the AHIJ use media and technology to define their public image in the twenty-first century.
Moving far beyond the "modest witness" of nineteenth-century scientific discourse or the "thick descriptions" of twentieth-century anthropology, Jackson insists that Geertzian thickness is an impossibility, especially in a world where the anthropologist's subject is a self-aware subject—one who crafts his own autoethnography while critically consuming the ethnographer's offerings. Thin Description takes as its topic a group situated along the fault lines of several diasporas—African, American, Jewish—and provides an anthropological account of how race, religion, and ethnographic representation must be understood anew in the twenty-first century lest we reenact old mistakes in the study of black humanity.
Subjects
Religion
/
Sociology
/
Anthropology
/
Ethnography
/
African Hebrew Israelites of Jerusalem
/
Judaism
/
African Americans
/
Diaspora
/
---
Jackson, John L., Jr. (NHC Fellow, 2005–06). Thin Description: Ethnography and the African Hebrew Israelites of Jerusalem. Cambridge, MA: Harvard University Press, 2013.