By Barbara A. Hanawalt (NHC Fellow, 1997–98)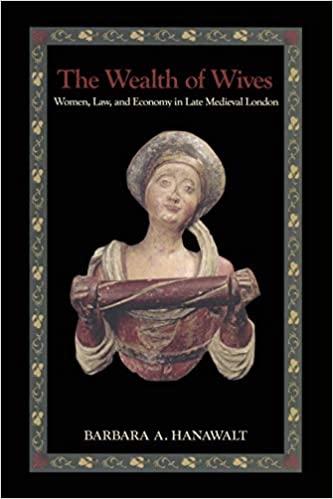 New York: Oxford University Press, 2007
From the publisher's description:
London became an international center for import and export trade in the late Middle Ages. The export of wool, the development of luxury crafts and the redistribution of goods from the continent made London one of the leading commercial cities of Europe. While capital for these ventures came from a variety of sources, the recirculation of wealth through London women was important in providing both material and social capital for the growth of London's economy. A shrewd Venetian visiting England around 1500 commented about the concentration of wealth and property in women's hands. He reported that London law divided a testator's property three ways allowing a third to the wife for her life use, a third for immediate inheritance of the heirs, and a third for burial and the benefit of the testator's soul. Women inherited equally with men and widows had custody of the wealth of minor children. In a society in which marriage was assumed to be a natural state for women, London women married and remarried. Their wealth followed them in their marriages and was it was administered by subsequent husbands. This study, based on extensive use of primary source materials, shows that London's economic growth was in part due to the substantial wealth that women transmitted through marriage. The Italian visitor observed that London men, unlike Venetians, did not seek to establish long patrilineages discouraging women to remarry, but instead preferred to recirculate wealth through women. London's social structure, therefore, was horizontal, spreading wealth among guilds rather than lineages. The liquidity of wealth was important to a growing commercial society and women brought not only wealth but social prestige and trade skills as well into their marriages. But marriage was not the only economic activity of women. London law permitted women to trade in their own right as femmes soles and a number of women, many of them immigrants from the countryside, served as wage laborers. But London's archives confirm women's chief economic impact was felt in the capital and skill they brought with them to marriages, rather than their profits as independent traders or wage labourers.
Awards and Prizes
Choice Outstanding Academic Title (2008)
Subjects
Gender and Sexuality
/
History
/
Economics
/
Women's History
/
Economic History
/
Middle Ages
/
Marriage
/
Social History
/
---
Hanawalt, Barbara A. (NHC Fellow, 1997–98). The Wealth of Wives: Women, Law, and Economy in Late Medieval London. New York: Oxford University Press, 2007.