By Paul F. Grendler (NHC Fellow, 1988–89; 1989–90)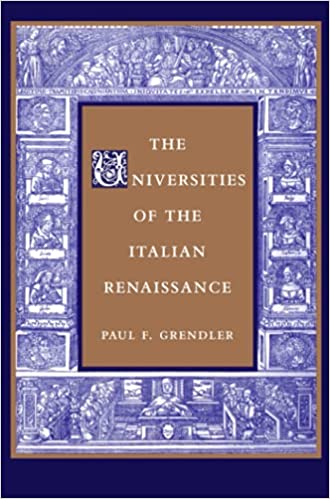 Baltimore: Johns Hopkins University Press, 2002
From the publisher's description:
Italian Renaissance universities were Europe's intellectual leaders in humanistic studies, law, medicine, philosophy, and science. Employing some of the foremost scholars of the time—including Pietro Pomponazzi, Andreas Vesalius, and Galileo Galilei—the Italian Renaissance university was the prototype of today's research university. This is the first book in any language to offer a comprehensive study of this most influential institution.
In this magisterial study, noted scholar Paul F. Grendler offers a detailed and authoritative account of the universities of Renaissance Italy. Beginning with brief narratives of the origins and development of each university, Grendler explores such topics as the number of professors and their distribution by discipline, student enrollment (some estimates are the first attempted), famous faculty members, budget and salaries, and relations with civil authority. He discusses the timetable of lectures, student living, foreign students, the road to the doctorate, and the impact of the Counter Reformation. He shows in detail how humanism changed research and teaching, producing the medical Renaissance of anatomy and medical botany, new approaches to Aristotle, and mathematical innovation. Universities responded by creating new professorships and suppressing older ones. The book concludes with the decline of Italian universities, as internal abuses and external threats—including increased student violence and competition from religious schools—ended Italy's educational leadership in the seventeenth century.
Awards and Prizes
Helen and Howard R. Marraro Prize (2002); Choice Outstanding Academic Title (2003)
Subjects
Education Studies
/
History
/
Higher Education
/
Italian Renaissance
/
Humanism
/
---
Grendler, Paul F. (NHC Fellow, 1988–89; 1989–90). The Universities of the Italian Renaissance. Baltimore: Johns Hopkins University Press, 2002.