By Paul W. Werth (NHC Fellow, 2007–08)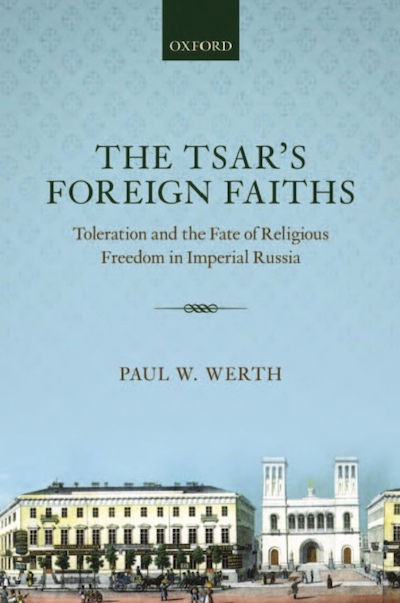 New York: Oxford University Press, 2014
From the publisher's description:
The Russian Empire presented itself to its subjects and the world as an Orthodox state, a patron and defender of Eastern Christianity. Yet the tsarist regime also lauded itself for granting religious freedoms to its many heterodox subjects, making 'religious toleration' a core attribute of the state's identity. The Tsar's Foreign Faiths shows that the resulting tensions between the autocracy's commitments to Orthodoxy and its claims to toleration became a defining feature of the empire's religious order.
In this panoramic account, Paul W. Werth explores the scope and character of religious freedom for Russia's diverse non-Orthodox religions, from Lutheranism and Catholicism to Islam and Buddhism. Considering both rhetoric and practice, he examines discourses of religious toleration and the role of confessional institutions in the empire's governance. He reveals the paradoxical status of Russia's heterodox faiths as both established and 'foreign', and explains the dynamics that shaped the fate of newer conceptions of religious liberty after the mid-nineteenth century. If intellectual change and the shifting character of religious life in Russia gradually pushed the regime towards the acceptance of freedom of conscience, then statesmen's nationalist sentiments and their fears of 'politicized' religion impeded this development. Russia's religious order thus remained beset by contradiction on the eve of the Great War. Based on archival research in five countries and a vast scholarly literature, The Tsar's Foreign Faiths represents a major contribution to the history of empire and religion in Russia, and to the study of toleration and religious diversity in Europe.
Subjects
History
/
Religion
/
Russian History
/
History of Religion
/
Russian Empire
/
Eastern Orthodox Church
/
Freedom of Religion
/
---
Werth, Paul W. (NHC Fellow, 2007–08). The Tsar's Foreign Faiths: Toleration and the Fate of Religious Freedom in Imperial Russia. Oxford Studies in Modern European History. New York: Oxford University Press, 2014.