By Miguel Sabuco
Edited and translated by Gianna Pomata (NHC Fellow, 2003–04)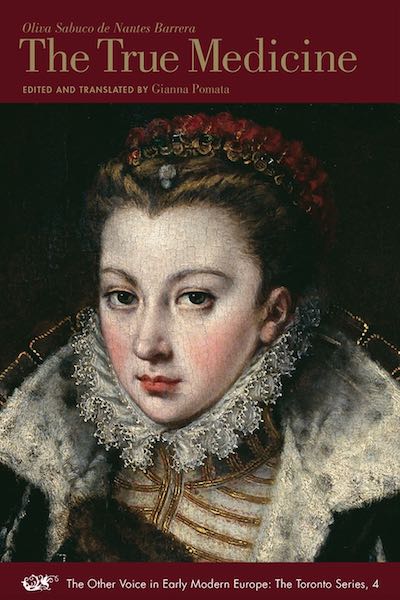 Toronto: Centre for Reformation and Renaissance Studies, 2010
From the publisher's description:
With unprecedented clarity and care, Gianna Pomata brings an important text in the history of scientific authorship to the attention of modern-day readers. Published in Spain in 1587 under the name of Oliva Sabuco, True Philosophy of Human Nature, of which The True Medicine is part, was soon thereafter claimed to be the work of her father's pen. Since the beginning of the twentieth century, approaches to the text have often focused uncritically on the authorial controversy, providing polarized irreconcilable interpretations. Pomata, however, explores the wider context of production and reception of True Philosophy with analytical sophistication, making it inseparable from the authorial question and tracing the most reliable historical understanding to date of this influential text. Her English translation flows accurately while avoiding anachronism and will surely become standard reference for anyone interested in the cultural history of female authorship or early modern medicine and science.
Subjects
Science
/
Medicine
/
Philosophy
/
Natural Philosophy
/
History of Medicine
/
Early Modern Period
/
Women Authors
/
Nueva filosofia de la naturaleza del hombre: No conocida ni alcanzada de los grandes filosofos antiguos, la qual mejora la vida, y salud humana
/
---
Pomata, Gianna (NHC Fellow, 2003–04), ed. and trans. The True Medicine, by Miguel Sabuco. The Other Voice in Early Modern Europe: The Toronto Series. Toronto: Centre for Reformation and Renaissance Studies, 2010.