By Bertram Wyatt-Brown (NHC Fellow, 1989–90; 1998–99)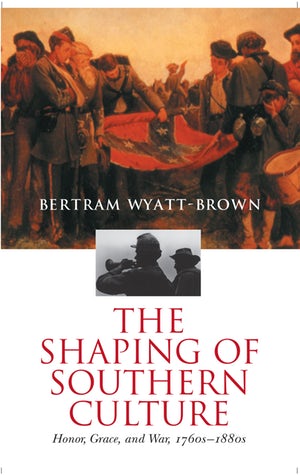 Chapel Hill: The University of North Carolina Press, 2001
From the publisher's description:
Extending his investigation into the ethical life of the white American South beyond what he wrote in Southern Honor (1982), Bertram Wyatt-Brown explores three major themes in southern history: the political aspects of the South's code of honor, the increasing prominence of Protestant faith in white southerners' lives, and the devastating impact of war, defeat, and an angry loss of confidence during the post-Civil War era.
This eloquent and richly textured study first demonstrates the psychological complexity of race relations, drawing new and provocative comparisons between American slave oppression and the Nazi concentration camp experience. The author then reveals how the rhetoric and rituals of honor affected the Revolutionary generation and--through a study of Andrew Jackson, dueling, and other demonstrations of manhood--how early American politicians won or lost popularity. In perhaps the most subtle and intriguing section of the book, he discloses the interconnections of honor and religious belief and practice. Finally, exploring the effects of war and defeat on former Confederates, Wyatt-Brown suggests that the rise of violent racism following the Civil War had significant links to the shame of military defeat and the spurious invocation of religious convictions.
Subjects
History
/
American South
/
American Revolution
/
American Civil War
/
Reconstruction Era
/
American History
/
Honor
/
---
Wyatt-Brown, Bertram (NHC Fellow, 1989–90; 1998–99). The Shaping of Southern Culture: Honor, Grace, and War, 1760s-1880s. Chapel Hill: The University of North Carolina Press, 2001.