By Lance Banning (NHC Fellow, 1986–87)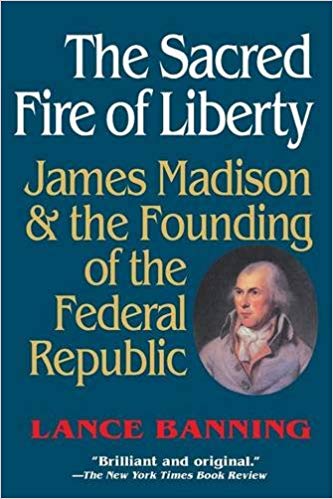 Ithaca, NY: Cornell University Press, 1995
From the publisher's description:
James Madison was the finest democratic theorist that the United States has ever produced. His was the pivotal philosophical role in framing the Constitution and establishing the principles on which a wholly new form of government was to be based. Yet this widely informed and profoundly original thinker has been considered by most scholars to be an intellectual pragmatist who reacted variably and inconsistently to the changing circumstances of the Revolution and the Confederation. Lance Banning's powerful and persuasive reexamination of Madison's thought at the critical early and central stages of his career now changes that presumption, and provides a new base from which thinking about Madison and the Founding must start.
The Sacred Fire of Liberty follows Madison from his appearance on the national stage (in Congress in 1780) through the end of 1792. By the end of this period, he had achieved his mature understanding of the Constitution, and his collision with many of the other Federalists of 1788 had made him a leader of the opposition to the administration of George Washington. Banning convinces the reader, through his meticulous research and deeply contextualized presentation of the shifting issues of the period, that Madison indeed held to consistent principles: he was at once a more committed democrat and a less eager nationalist than usually has been thought. The thinking that had underpinned his actions at the great convention, his numbers of The Federalist, and the supposed reversal of positions represented by his joining with Thomas Jefferson to form the first Republican party had firmed by 1792 into the understandings that would guide the rest of his career.
Awards and Prizes
Pulitzer Prize Award Finalist (1996); Merle Curti Intellectual History Award (1997)
Subjects
History
/
Political History
/
James Madison
/
---
Banning, Lance (NHC Fellow, 1986–87). The Sacred Fire of Liberty: James Madison and the Founding of the Federal Republic. Ithaca, NY: Cornell University Press, 1995.