Boatwright, Mary T.; Gargola, Daniel J.; Talbert, Richard J. A. (Fellow, 2000-01), ed.
New York: Oxford University Press, 2022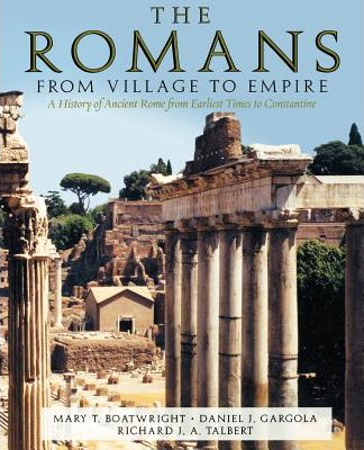 From the publisher's description:
How did a single village community in the Italian peninsula eventually become one of the mightiest imperial powers the world has ever known? In The Romans, Mary T. Boatwright, Daniel Gargola, and Richard J.A. Talbert tackle this question as they guide readers through a comprehensive sweep ofRoman history, ranging from the prehistoric settlements to the age of Constantine.Vividly written and attractively designed with almost 100 illustrations, The Romans expertly unfolds Rome's remarkable evolution from village, to monarchy and then republic, and finally to one-man rule by an emperor whose power at its peak stretched from Scotland to Iraq and the Nile Valley.Firmly grounded in ancient literary and material sources, the book captures and analyzes the outstanding political and military landmarks--from the Punic Wars, to Caesar's conquest of Gaul and his crossing of the Rubicon, to the victory of Octavian over Mark Antony, to Constantine's adoption ofChristianity. Here too are some of the most fascinating individuals ever to walk across the world stage, including Hannibal, Mithridates, Pompey, Cicero, Cleopatra, Augustus, Livia, Nero, Marcus Aurelius, and Shapur. The authors bring to life many aspects of Rome's cultural and social history, fromthe role of women, to literature, entertainments, town-planning, portraiture, and religion. The book incorporates more than 30 maps, mostly produced by the Ancient World Mapping Center; in addition, 22 boxes interspersed throughout feature varied excerpts of writings by Romans themselves.Rome's story is one of history's most remarkable chronicles. The Romans gives marvelous fresh insight into a people's truly monumental achievement--their ambition, glory, and suffering.
---
Subjects: History; Roman History; Ancient Rome; Roman Empire; Primary Sources;