By Jonathan Lamb (NHC Fellow, 1991–92)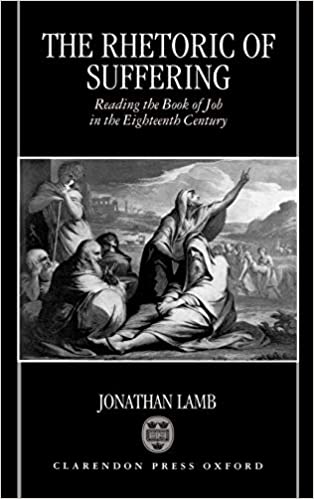 Oxford, UK: Clarendon Press, 1995
From the publisher's description:
The Rhetoric of Suffering draws on the book of Job as a touchstone for the contradictions and polemics that infect various C18th works - poetry, philosophy, political oratory, accounts of exploration, commentaries on criminal law - which tried to account for the relations between human suffering and systems of secular and divine justice.
Deliberately eschewing questions of chronology or discursive coherence, genre or topic, Jonathan Lamb offers considerations of Richardson and Fielding, Hawkesworth and the South Pacific, Goldsmith and Godwin, Hume and Walpole, Blackstone and Bentham, Burke and Longinus, and Blackmore and Wright of Derby. Asking why it was that standard consolations, which had worked for centuries, suddenly stopped working, or were treated as insults by people who felt peculiarly isolated by misery, this wide-ranging account of the improbability of complaint in the eighteenth century offers an answer.
Far from crystallizing or objectifying the issue of complaint, the book of Job seems to restore its limitless and unprecedented urgency. The Rhetoric of Suffering examines complaints that fall into this dissident and singular category, and relates their improbability to the aesthetics of the sublime, and to current theories of practice and communication. Lamb focuses on William Warburton's contentious interpretation of Job, contained in his Divine Legation of Moses Demonstrated (1738-1741), a prime example of the debate that emerges when Job is used as an unequivocal justification of providence.
Subjects
Literature
/
Religion
/
Literary Criticism
/
Christianity
/
Religious Texts
/
Eighteenth-Century
/
The Book of Job
/
---
Lamb, Jonathan (NHC Fellow, 1991–92). The Rhetoric of Suffering: Reading the Book of Job in the Eighteenth Century. Oxford, UK: Clarendon Press, 1995.