By Jane Turner Censer (NHC Fellow, 1983–84)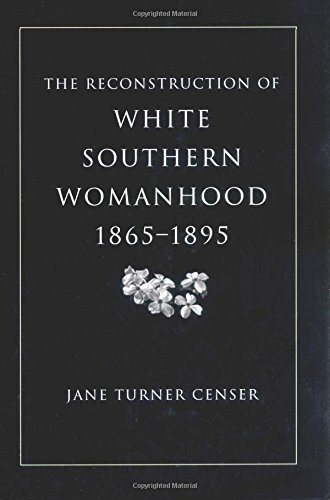 Baton Rouge: Louisiana State University Press, 2003
From the publisher's description:
This impressively researched book tells the important but little-known story of elite southern white women's successful quest for a measure of self-reliance and independence between antebellum strictures and the restored patriarchy of Jim Crow. Profusely illustrated with the experiences of fascinating women in Virginia and North Carolina, it presents a compelling new chapter in the history of American women and of the South.
As were many ideas, notions of the ideal woman were in flux after the Civil War. While poverty added a harder edge to the search for a good marriage among some "southern belles," other privileged white women forged identities that challenged the belle model altogether. Their private and public writings from the 1870s and 1880s suggest a widespread ethic of autonomy. Sometimes that meant increased domestic skills born of the new reality of fewer servants. But women also owned and transmitted property, worked for pay, and even pursued long-term careers. Many found a voice in a plethora of new voluntary organizations, and some southern women attained national celebrity in the literary world, creating strong and capable heroines and mirroring an evolving view toward northern society.
Yet even as elite southern women experimented with their roles, external forces and contradictions within their position were making their unprecedented attitudes and achievements socially untenable. During the 1890s, however, virulent racism and pressures to re-create a mythic South left these women caught between the revived image of the southern belle and the emerging emancipated woman.
Just as the memoirs of southern white women have been key to understanding life during the Civil War, the writings of such women unlock the years of dramatic change that followed. Informed by myriad primary documents, Jane Turner Censer immerses us in the world of postwar southern women as they rethought and rebuilt themselves, their families, and their region during a brief but important period of relative freedom.
Subjects
Gender and Sexuality
/
History
/
Jim Crow Laws
/
American History
/
Reconstruction Era
/
Women
/
---
Censer, Jane Turner (NHC Fellow, 1983–84). The Reconstruction of White Southern Womanhood, 1865-1895. Baton Rouge: Louisiana State University Press, 2003.