Edited by Franklin W. Knight (NHC Fellow, 1986–87) and Colin A. Palmer (Trustee; NHC Fellow, 1989–90)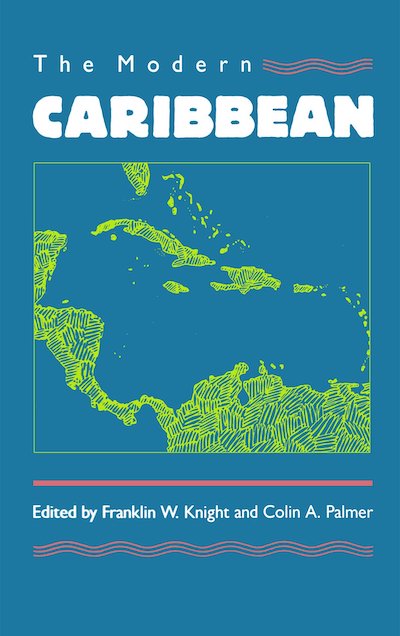 Chapel Hill: The University of North Carolina Press, 1989
From the publisher's description:
This collection of thirteen original essays by experts in the field of Caribbean studies clarifies the diverse elements that have shaped the modern Caribbean. Through an interdisciplinary examination of the complexities of race, politics, language, and environment that mark the region, the authors offer readers a thorough understanding of the Caribbean's history and culture. The essays also comment thoughtfully on the problems that confront the Caribbean in today's world.
The essays focus on the Caribbean island and the mainland enclaves of Belize and the Guianas. Topics examined include the Haitian Revolution of the late eighteenth and early nineteenth centuries; labor and society in the nineteenth-century Caribbean; society and culture in the British and French West Indies since 1870; identity, race, and black power in Jamaica; the "February Revolution" of 1970 in Trinidad; contemporary Puerto Rico; politics, economy, and society in twentieth-century Cuba; Spanish Caribbean politics and nationalism in the nineteenth century; Caribbean migrations; economic history of the British Caribbean; international relations; and nationalism, nation, and ideology in the evolution of Caribbean literature.
The authors trace the historical roots of current Caribbean difficulties and analyze these problems in the light of economic, political, and social developments. Additionally, they explore these conditions in relation to United States interests and project what may lie ahead for the region. The challenges currently facing the Caribbean, note the editors, impose a heavy burden upon political leaders who must struggle "to eliminate the tensions when the people are so poor and their expectations so great."
Subjects
History
/
Sociology
/
Political Science
/
Cultural History
/
Revolutions
/
Politics
/
Colonialism
/
Caribbean History
/
---
Knight, Franklin W. (NHC Fellow, 1986–87), and Palmer, Colin A. (Trustee; NHC Fellow, 1989–90), eds. The Modern Caribbean. Chapel Hill: The University of North Carolina Press, 1989.