By Patricia Clare Ingham (NHC Fellow, 2012–13)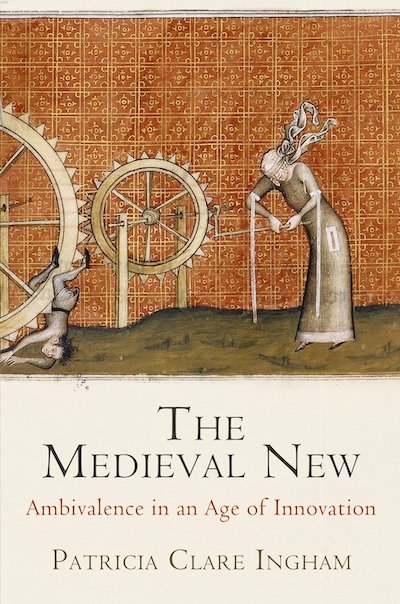 Philadelphia: University of Pennsylvania Press, 2015
From the publisher's description:
Despite the prodigious inventiveness of the Middle Ages, the era is often characterized as deeply suspicious of novelty. But if poets and philosophers urged caution about the new, Patricia Clare Ingham contends, their apprehension was less the result of a blind devotion to tradition than a response to radical expansions of possibility in diverse realms of art and science. Discovery and invention provoked moral questions in the Middle Ages, serving as a means to adjudicate the ethics of invention and opening thorny questions of creativity and desire.
The Medieval New concentrates on the preoccupation with newness and novelty in literary, scientific, and religious discourses of the twelfth through sixteenth centuries. Examining a range of evidence, from the writings of Roger Bacon and Geoffrey Chaucer to the letters of Christopher Columbus, and attending to histories of children's toys, the man-made marvels of romance, the utopian aims of alchemists, and the definitional precision of the scholastics, Ingham analyzes the ethical ambivalence with which medieval thinkers approached the category of the new. With its broad reconsideration of what the "newfangled" meant in the Middle Ages, The Medieval New offers an alternative to histories that continue to associate the medieval era with conservation rather than with novelty, its benefits and liabilities. Calling into question present-day assumptions about newness, Ingham's study demonstrates the continued relevance of humanistic inquiry in the so-called traditional disciplines of contemporary scholarship.
Subjects
History
/
Literature
/
Middle Ages
/
Novelty
/
Medieval Literature
/
---
Ingham, Patricia Clare (NHC Fellow, 2012–13). The Medieval New: Ambivalence in an Age of Innovation. The Middle Ages Series. Philadelphia: University of Pennsylvania Press, 2015.