By Gregg A. Hecimovich (NHC Fellow, 2015–16; 2022–23)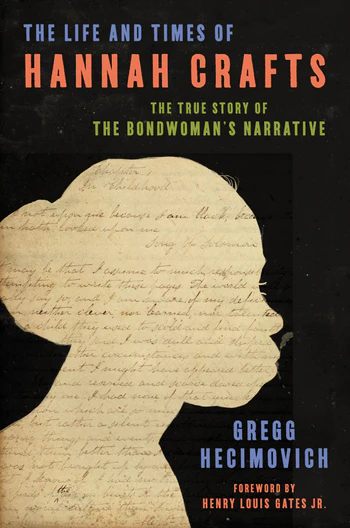 New York: HarperCollins, 2023
From the publisher's description:
In 1857, a woman escaped enslavement on a North Carolina plantation and fled to a farm in New York. In hiding, she worked on a manuscript that would make her famous long after her death. The novel, The Bondwoman's Narrative, was first published in 2002 to great acclaim, but the author's identity remained unknown. Over a decade later, Professor Gregg Hecimovich unraveled the mystery of the author's name and, in The Life and Times of Hannah Crafts, he finally tells her story.
In this remarkable biography, Hecimovich identifies the novelist as Hannah Bond "Crafts." She was not only the first known Black woman to compose a novel but also an extraordinarily gifted artist who honed her literary skills in direct opposition to a system designed to deny her every measure of humanity. After escaping to New York, the author forged a new identity—as Hannah Crafts—to make sense of a life fractured by slavery.
Hecimovich establishes the case for authorship of The Bondwoman's Narrative by examining the lives of Hannah Crafts's friends and contemporaries, including the five enslaved women whose experiences form part of her narrative. By drawing on the lives of those she knew in slavery, Crafts summoned into her fiction people otherwise stolen from history.
At once a detective story, a literary chase, and a cultural history, The Life and Times of Hannah Crafts discovers a tale of love, friendship, betrayal, and violence set against the backdrop of America's slide into Civil War.
Subjects
History
/
Literature
/
Enslaved Persons
/
African American History
/
African American Literature
/
Women Authors
/
Autobiography
/
Hannah Crafts
/
North Carolina
/
New York
/
---
Hecimovich, Gregg A. (NHC Fellow, 2015–16; 2022–23). The Life and Times of Hannah Crafts: The True Story of The Bondwoman's Narrative. New York: HarperCollins, 2023.