By Laurie Langbauer (NHC Fellow, 2011–12)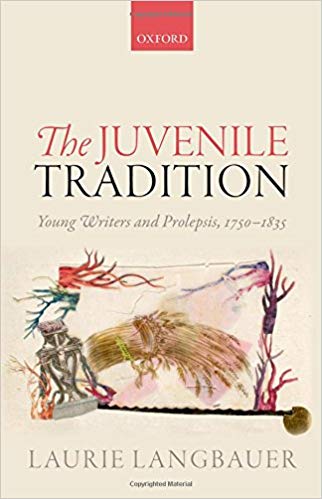 New York: Oxford University Press, 2016
From the publisher's description:
A juvenile tradition of young writers flourished in Britain between 1750 and 1835. Canonical Romantic poets as well as now-unknown youthful writers published as teenagers. These teenage writers reflected on their literary juvenilia by using the trope of prolepsis to assert their writing as a literary tradition. Precocious writing, child prodigies, and early genius had been topics of interest since the eighteenth century. Child authors--girl poets and boy poets, schoolboy writers and undergraduate writers, juvenile authors of all kinds--found new publication opportunities because of major shifts in the periodical press, publishing, and education. School magazines and popular juvenile magazines that awarded prizes to child writers all made youthful authorship more visible. Some historians estimate that minors (children and teens) comprised over half the population at the beginning of the nineteenth century. Modern interest in Romanticism, and the self-taught and women writers' traditions, has occluded the tradition of juvenile writers. This first full-length study to recover the late eighteenth and early nineteenth-century juvenile tradition draws on the history of childhood and child studies, along with reception study and audience history. It considers the literary juvenilia of Thomas Chatterton, Henry Kirke White, Robert Southey, Leigh Hunt, Jane Austen, and Felicia Hemans (then Felicia Dorothea Browne)--along with the childhood writing of Byron, Mary Shelley, Percy Shelley, and John Keats--and a score of other young poets--"infant bards"--no longer familiar today. Recovering juvenility recasts literary history. Adolescent writers, acting proleptically, ignored the assumptions of childhood development and the disparagement of supposedly immature writing.
Subjects
Literature
/
Literary Criticism
/
British Literature
/
Adolescence
/
Authors
/
Children
/
English Literature
/
---
Langbauer, Laurie (NHC Fellow, 2011–12). The Juvenile Tradition: Young Writers and Prolepsis, 1750-1835. New York: Oxford University Press, 2016.