By Bertram Wyatt-Brown (NHC Fellow, 1989–90; 1998–99)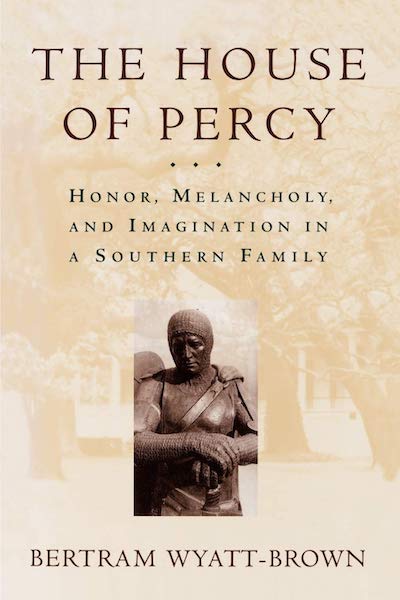 New York: Oxford University Press, 1994
From the publisher's description:
The novels of Walker Percy--The Moviegoer, Lancelot, The Second Coming, and The Thanatos Syndrome to name a few--have left a permanent mark on twentieth-century Southern fiction; yet the history of the Percy family in America matches anything, perhaps, that he could have created. Two centuries of wealth, literary accomplishment, political leadership, depression, and sometimes suicide established a fascinating legacy that lies behind Walker Percy's acclaimed prose and profound insight into the human condition.
In The House of Percy, Bertram Wyatt-Brown masterfully interprets the life of this gifted family, drawing out the twin themes of an inherited inclination to despondency and an abiding sense of honor. The Percy family roots in Mississippi and Louisiana go back to "Don Carlos" Percy, an eighteenth-century soldier of fortune who amassed a large estate but fell victim to mental disorder and suicide. Wyatt-Brown traces the Percys through the slaveholding heyday of antebellum Natchez, the ravages of the Civil War (which produced the heroic Colonel William Alexander Percy, the "Gray Eagle"), and a return to prominence in the Mississippi Delta after Reconstruction. In addition, the author recovers the tragic lives and literary achievements of several Percy-related women, including Sarah Dorsey, a popular post-Civil War novelist who horrified her relatives by befriending Jefferson Davis--a married man--and bequeathing to him her plantation home, Beauvoir, along with her entire fortune. Wyatt-Brown then chronicles the life of Senator LeRoy Percy, whose climactic re-election loss in 1911 to a racist demagogue deply stung the family pride, but inspired his bold defiance to the Ku Klux Klan in the 1920s. The author goes on to tell the poignant story of poet and war hero Will Percy, the Senator's son. The weight of this family narrative found expression in Will Percy's memoirs, Lanterns on the Levee--and in the works of Walker Percy, who was reared in his cousin Will's Greenville home after the suicidal death of Walker's father and his mother's drowning.
As the biography of a powerful dynasty, steeped in Southern traditions and claims to kinship with English nobility, The House of Percy shows the interrelationship of legend, depression, and grand achievement. Written by a leading scholar of the South, it weaves together intensive research and thoughtful insights into a riveting, unforgettable story.
Subjects
History
/
Literature
/
American South
/
American Literature
/
Families
/
Authors
/
Honor
/
Walker Percy
/
William Alexander Percy
/
Sarah Anne Dorsey
/
LeRoy Percy
/
---
Wyatt-Brown, Bertram (NHC Fellow, 1989–90; 1998–99). The House of Percy: Honor, Melancholy, and Imagination in a Southern Family. New York: Oxford University Press, 1994.