Edited by Blyden Jackson (NHC Fellow, 1981–82; 1982–83) and Louis D. Rubin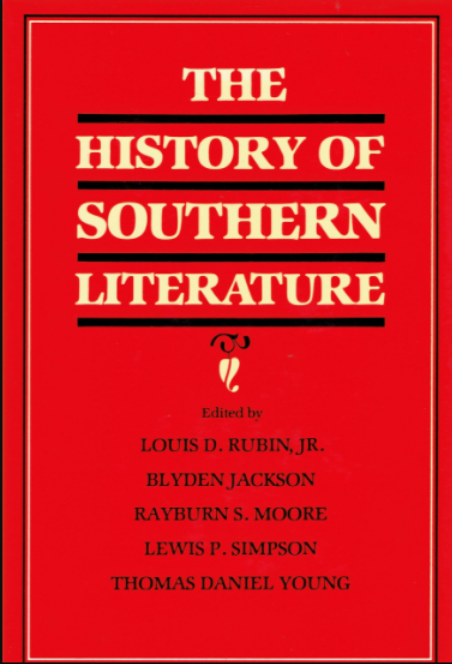 Baton Rouge: Louisiana State University Press, 1985
From the publisher's description:
These essays provide an account of Southern literature from the mid-1500s to the present, including a review of individual works, their writers and readers, literary trends, cultural movements, and political and economic influences. Organized in four sections, the essays deal with the mind of the antebellum South, the connection between the power of mind and the institution of slavery that stymied scientific and literary growth in the mid-1800s, the Civil War and its aftermath, the turn-of-the-century romance and plantation fiction, and the Fugitives and the Agrarians. The volume provides brief vignettes of figures such as Edger Allan Poe, William Faulkner, Thomas Wolfe, Richard Wright, as well as recent writers like Eudora Welty, Walker Percy, Truman Capote, Ralph Ellison and James Dickey, and concludes with an essay on the future of Southern writing. Contributors include Cleanth Brooks, Lewis P. Simpson and Daniel Young
Subjects
Literature
/
History
/
American South
/
American Literature
/
---
Jackson, Blyden (NHC Fellow, 1981–82; 1982–83), ed. The History of Southern Literature. Edited by Blyden Jackson and Louis D. Rubin. Baton Rouge: Louisiana State University Press, 1985.