Edited by Daniel Conway (NHC Fellow, 2006–07) and Alan D. Schrift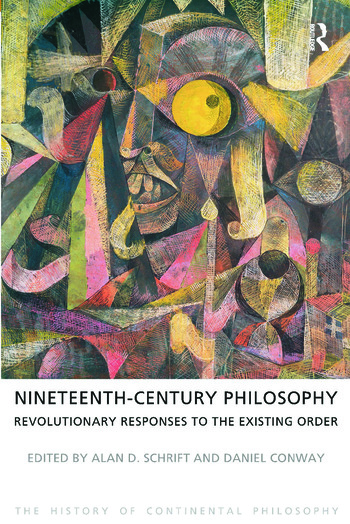 Chicago: The University of Chicago Press, 2010
From the publisher's description:
From Kant to Kierkegaard, from Hegel to Heidegger, continental philosophers have indelibly shaped the trajectory of Western thought since the eighteenth century. Although much has been written about these monumental thinkers, students and scholars lack a definitive guide to the entire scope of the continental tradition. The most comprehensive reference work to date, this eight-volume History of Continental Philosophy will both encapsulate the subject and reorient our understanding of it. Beginning with an overview of Kant's philosophy and its initial reception, the History traces the evolution of continental philosophy through major figures as well as movements such as existentialism, phenomenology, hermeneutics, and poststructuralism. The final volume outlines the current state of the field, bringing the work of both historical and modern thinkers to bear on such contemporary topics as feminism, globalization, and the environment. Throughout, the volumes examine important philosophical figures and developments in their historical, political, and cultural contexts.
The first reference of its kind, A History of Continental Philosophy has been written and edited by internationally recognized experts with a commitment to explaining complex thinkers, texts, and movements in rigorous yet jargon-free essays suitable for both undergraduates and seasoned specialists. These volumes also elucidate ongoing debates about the nature of continental and analytic philosophy, surveying the distinctive, sometimes overlapping characteristics and approaches of each tradition. Featuring helpful overviews of major topics and plotting road maps to their underlying contexts, A History of Continental Philosophy is destined to be the resource of first and last resort for students and scholars alike.
Subjects
Philosophy
/
History
/
Hermeneutics
/
Cultural History
/
Poststructuralism
/
Existentialism
/
Søren Kierkegaard
/
Georg Wilhelm Friedrich Hegel
/
Martin Heidegger
/
---
Conway, Daniel (NHC Fellow, 2006–07), ed. The History of Continental Philosophy. Vol. 2, Nineteenth-Century Philosophy: Revolutionary Responses to the Existing Order. Edited by Daniel Conway and Alan D. Schrift. Chicago: The University of Chicago Press, 2010.