By Henry S. Turner (NHC Fellow, 2010–11)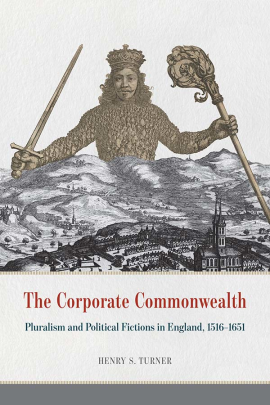 Chicago: The University of Chicago Press, 2016
From the publisher's description:
The Corporate Commonwealth traces the evolution of corporations during the English Renaissance and explores the many types of corporations that once flourished. Along the way, the book offers important insights into our own definitions of fiction, politics, and value.
Henry S. Turner uses the resources of economic and political history, literary analysis, and political philosophy to demonstrate how a number of English institutions with corporate associations—including universities, guilds, towns and cities, and religious groups—were gradually narrowed to the commercial, for-profit corporation we know today, and how the joint-stock corporation, in turn, became both a template for the modern state and a political force that the state could no longer contain. Through innovative readings of works by Thomas More, William Shakespeare, Francis Bacon, and Thomas Hobbes, among others, Turner tracks the corporation from the courts to the stage, from commonwealth to colony, and from the object of utopian fiction to the subject of tragic violence. A provocative look at the corporation's peculiar character as both an institution and a person, The Corporate Commonwealth uses the past to suggest ways in which today's corporations might be refashioned into a source of progressive and collective public action.
Awards and Prizes
Elizabeth Dietz Memorial Award (2017)
Subjects
History
/
Economics
/
Political Science
/
Corporations
/
Political Philosophy
/
English Renaissance
/
Economic History
/
British History
/
---
Turner, Henry S. (NHC Fellow, 2010–11). The Corporate Commonwealth: Pluralism and Political Fictions in England, 1516-1651. Chicago: The University of Chicago Press, 2016.