By Judith Farquhar (NHC Fellow, 2007–08; 2015–16)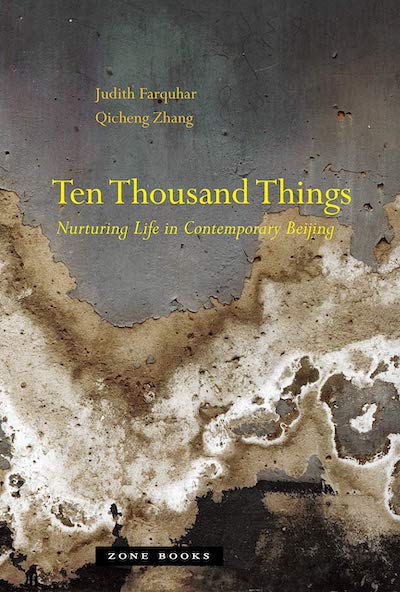 New York: Zone Books, 2012
From the publisher's description:
Ten Thousand Things explores the many forms of life, or, in ancient Chinese parlance "the ten thousand things" that life is and is becoming, in contemporary Beijing and beyond. Coauthored by an American anthropologist and a Chinese philosopher, the book examines the myriad ways contemporary residents of Beijing understand and nurture the good life, practice the embodied arts of everyday wellbeing, and in doing so draw on cultural resources ranging from ancient metaphysics to modern media.
Farquhar and Zhang show that there are many activities that nurture life: practicing meditative martial arts among friends in a public park; jogging, swimming, and walking backward; dancing, singing, and keeping pet birds; connoisseurship of tea, wine, and food; and spiritual disciplines ranging from meditation to learning a foreign language. As ancient life-nurturing texts teach, the cultural practices that produce particular forms of life are generative in ten thousand ways: they "give birth to life and transform the transformations."
Awards and Prizes
Francis L. K. Hsu Book Prize (2013)
Subjects
Anthropology
/
Philosophy
/
Ethnography
/
Cultural History
/
Well-Being
/
Cities
/
Urban Life
/
---
Farquhar, Judith (NHC Fellow, 2007–08; 2015–16). Ten Thousand Things: Nurturing Life in Contemporary Beijing. New York: Zone Books, 2012.