By Morgan Pitelka (NHC Fellow, 2011–12)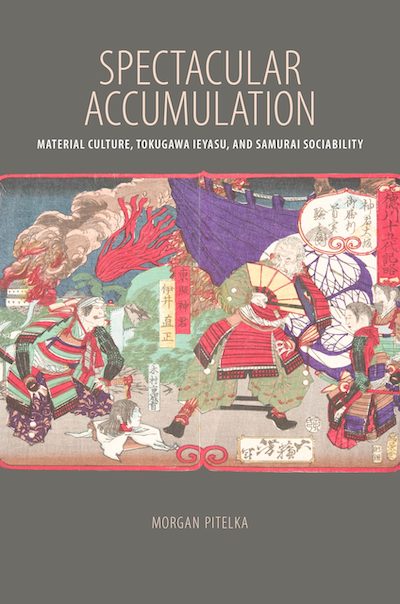 Honolulu: University of Hawaiʻi Press, 2016
From the publisher's description:
In Spectacular Accumulation, Morgan Pitelka investigates the significance of material culture and sociability in late sixteenth-century Japan, focusing in particular on the career and afterlife of Tokugawa Ieyasu (1543–1616), the founder of the Tokugawa shogunate. The story of Ieyasu illustrates the close ties between people, things, and politics and offers us insight into the role of material culture in the shift from medieval to early modern Japan and in shaping our knowledge of history.
This innovative and eloquent history of a transitional age in Japan reframes the relationship between culture and politics. Like the collection of meibutsu, or "famous objects," exchanging hostages, collecting heads, and commanding massive armies were part of a strategy Pitelka calls "spectacular accumulation," which profoundly affected the creation and character of Japan's early modern polity. Pitelka uses the notion of spectacular accumulation to contextualize the acquisition of "art" within a larger complex of practices aimed at establishing governmental authority, demonstrating military dominance, reifying hierarchy, and advertising wealth. He avoids the artificial distinction between cultural history and political history, arguing that the famed cultural efflorescence of these years was not subsidiary to the landscape of political conflict, but constitutive of it. Employing a wide range of thoroughly researched visual and material evidence, including letters, diaries, historical chronicles, and art, Pitelka links the increasing violence of civil and international war to the increasing importance of samurai social rituals and cultural practices. Moving from the Ashikaga palaces of Kyoto to the tea utensil collections of Ieyasu, from the exchange of military hostages to the gift-giving rituals of Oda Nobunaga and Toyotomi Hideyoshi, Spectacular Accumulation traces Japanese military rulers' power plays over famous artworks as well as objectified human bodies.
Subjects
History
/
Military History
/
Art History
/
Japanese History
/
Material Culture
/
Samurai
/
Ieyasu Tokugawa
/
---
Pitelka, Morgan (NHC Fellow, 2011–12). Spectacular Accumulation: Material Culture, Tokugawa Ieyasu, and Samurai Sociability. Honolulu: University of Hawaiʻi Press, 2016.