Edited by Kathryn Kish Sklar (NHC Fellow, 1995–96), Anja Schüler, and Susan Strasser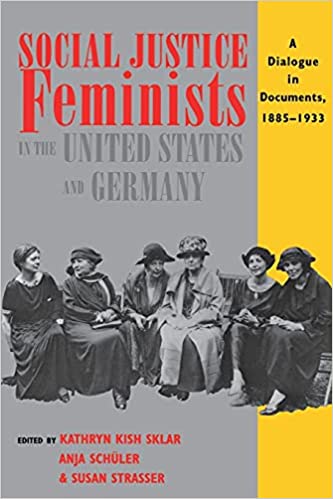 Ithaca, NY: Cornell University Press, 1998
From the publisher's description:
Women reformers in the United States and Germany maintained a brisk dialogue between 1885 and 1933. Drawing on one another's expertise, they sought to alleviate a wide array of social injustices generated by industrial capitalism, such as child labor and the exploitation of women in the workplace. This book presents and interprets documents from that exchange, most previously unknown to historians, which show how these interactions reflected the political cultures of the two nations. On both sides of the Atlantic, women reformers pursued social justice strategies. The documents discussed here reveal the influence of German factory legislation on debates in the United States, point out the differing contexts of the suffrage movement, compare pacifist and antipacifist reactions of women to World War I, and trace shifts in the feminist movements of both countries after the war. Social Justice Feminists in the United States and Germany provides insight into the efforts of American and German women over half a century of profound social change. Through their dialogue, these women explicate their larger political cultures and the place they occupied in them.
Subjects
History
/
Feminists
/
Social Reformers
/
Women
/
Primary Sources
/
Social Justice
/
Germany
/
---
Sklar, Kathryn Kish (NHC Fellow, 1995–96), ed. Social Justice Feminists in the United States and Germany: A Dialogue in Documents, 1885-1933. Edited by Kathryn Kish Sklar, Anja Schüler, and Susan Strasser. Ithaca, NY: Cornell University Press, 1998.