By F. S. Naiden (NHC Fellow, 2010–11)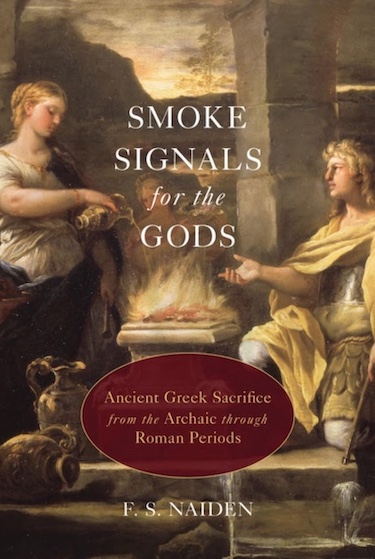 New York: Oxford University Press, 2013
From the publisher's description:
Animal sacrifice has been critical to the study of ancient Mediterranean religions since the nineteenth century. Recently, two theories have dominated the subject of sacrifice: the psychological and ethological approach of Walter Burkert and the sociological and cultural approach of Jean-Pierre Vernant and Marcel Detienne. These writers have argued that sacrifice allays feelings of guilt at the slaughter of sacrificial animals and that it promotes solidarity. None of them leaves much room for the role of priests or gods, or compares animal sacrifice to other oblations offered to the gods. F. S. Naiden redresses the omission of these features to show that, far from being an attempt to assuage guilt or foster solidarity, animal sacrifice is an attempt to make contact with a divine being, and that it is so important-and perceived to be so risky-for the worshippers that it becomes subject to regulations of unequaled extent and complexity. Smoke Signals for the Gods addresses these regulations as well as literary texts, while drawing on recent archaeological work on faunal remains. It also seeks to explain how mistaken views of sacrifice arose, and traces them as far back as early Christianity. This many-sided study provides a new picture of ancient Greek animal sacrifice and of the religion of which sacrifice was a part.
Subjects
History
/
Classics
/
Religion
/
Animal Sacrifice
/
Ancient Greece
/
Ancient Rome
/
Rituals
/
Rome, Italy
/
---
Naiden, F. S. (NHC Fellow, 2010–11). Smoke Signals for the Gods: Ancient Greek Sacrifice from the Archaic Through Roman Periods. New York: Oxford University Press, 2013.