By Christopher Grasso (NHC Fellow, 2016–17)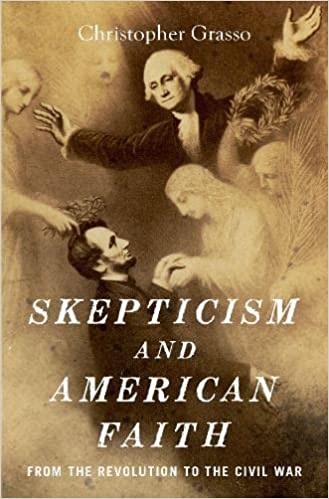 New York: Oxford University Press, 2018
From the publisher's description:
Between the American Revolution and the Civil War, the dialogue of religious skepticism and faith shaped struggles over the place of religion in politics. It produced different visions of knowledge and education in an "enlightened" society. It fueled social reform in an era of economic transformation, territorial expansion, and social change. Ultimately, as Christopher Grasso argues in this definitive work, it molded the making and eventual unmaking of American nationalism.
Religious skepticism has been rendered nearly invisible in American religious history, which often stresses the evangelicalism of the era or the "secularization" said to be happening behind people's backs, or assumes that skepticism was for intellectuals and ordinary people who stayed away from church were merely indifferent. Certainly the efforts of vocal "infidels" or "freethinkers" were dwarfed by the legions conducting religious revivals, creating missions and moral reform societies, distributing Bibles and Christian tracts, and building churches across the land. Even if few Americans publicly challenged Christian truth claims, many more quietly doubted, and religious skepticism touched--and in some cases transformed--many individual lives. Commentators considered religious doubt to be a persistent problem, because they believed that skeptical challenges to the grounds of faith--the Bible, the church, and personal experience--threatened the foundations of American society.
Skepticism and American Faith examines the ways that Americans--ministers, merchants, and mystics; physicians, schoolteachers, and feminists; self-help writers, slaveholders, shoemakers, and soldiers--wrestled with faith and doubt as they lived their daily lives and tried to make sense of their world.
Awards and Prizes
Society for Historians of the Early American Republic Book Prize (2018)
Subjects
History
/
Religion
/
Political Science
/
American History
/
Religious Skepticism
/
Social History
/
Christianity
/
---
Grasso, Christopher (NHC Fellow, 2016–17). Skepticism and American Faith: From the Revolution to the Civil War. New York: Oxford University Press, 2018.