By Ursula K. Heise (NHC Fellow, 2001–02)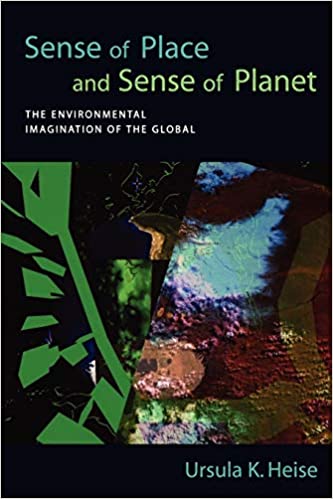 New York: Oxford University Press, 2008
From the publisher's description:
Sense of Place and Sense of Planet analyzes the relationship between the imagination of the global and the ethical commitment to the local in environmentalist thought and writing from the 1960s to the present. Part One critically examines the emphasis on local identities and communities in North American environmentalism by establishing conceptual connections between environmentalism and ecocriticism, on one hand, and theories of globalization, transnationalism and cosmopolitanism, on the other. It proposes the concept of "eco-cosmopolitanism" as a shorthand for envisioning these connections and the cultural and aesthetic forms into which they translate. Part Two focuses on conceptualizations of environmental danger and connects environmentalist and ecocritical thought with the interdisciplinary field of risk theory in the social sciences, arguing that environmental justice theory and ecocriticism stand to benefit from closer consideration of the theories of cosmopolitanism that have arisen in this field from the analysis of transnational communities at risk. Both parts of the book combine in-depth theoretical discussion with detailed analyses of novels, poems, films, computer software and installation artworks from the US and abroad that translate new connections between global, national and local forms of awareness into innovative aesthetic forms combining allegory, epic, and views of the planet as a whole with modernist and postmodernist strategies of fragmentation, montage, collage, and zooming.
Subjects
Environment and Nature
/
Globalization
/
Ecocriticism
/
Environmentalism
/
Environmental History
/
Transnationalism
/
Environmental Studies
/
---
Heise, Ursula K. (NHC Fellow, 2001–02). Sense of Place and Sense of Planet: The Environmental Imagination of the Global. New York: Oxford University Press, 2008.