By William McKane (NHC Fellow, 1987–88)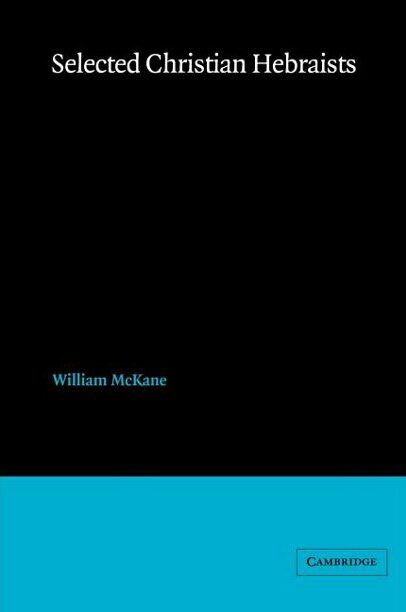 Cambridge, UK: Cambridge University Press, 1989
From the publisher's description:
The Christian Hebraists selected for examination are: Andrew of St. Victor, William Fulke, Gregory Martin, Richard Simon and Alexander Geddes, all of whom contributed in different ways to the reception of the Hebrew Bible in the Christian Church. All were strongly influenced by Jerome and Origen, who supplied the foundation on which subsequent study of the Hebrew Bible in the Christian Church rests. McKane is concerned with how the exercise of critical methods can be reconciled with the assumption that the Hebrew Bible is a Christian book. Focusing on these five Hebraists, each of whom had different influences and concerns, McKane reviews the shifts in the Church's understanding of the nature and authority of its scriptures, particularly the Old Testament. Thus, he shows how the beginnings of the critical scholarship of modern times is connected with, and has grown out of, that change in understanding. This is the first book on this subject that draws together such fields of scholarship as patristics, biblical scholarship, and translation problems.
Subjects
Religion
/
Religious Studies
/
Christianity
/
Exegesis
/
Textual Criticism
/
Christian Theology
/
Religious Texts
/
Hebrew Bible
/
---
McKane, William (NHC Fellow, 1987–88). Selected Christian Hebraists. Cambridge, UK: Cambridge University Press, 1989.