By Sabine Hake (NHC Fellow, 2010–11)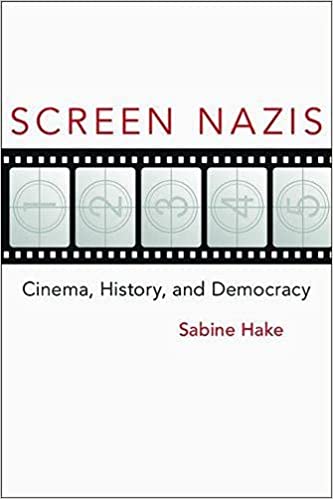 Madison: University of Wisconsin Press, 2012
From the publisher's description:
From the late 1930s to the early twenty-first century, European and American filmmakers have displayed an enduring fascination with Nazi leaders, rituals, and symbols, making scores of films from Confessions of a Nazi Spy (1939) and Watch on the Rhine (1943) through Des Teufels General (The Devil's General, 1955) and Pasqualino settebellezze (Seven Beauties, 1975), up to Der Untergang (Downfall, 2004), Inglourious Basterds (2009), and beyond.
Probing the emotional sources and effects of this fascination, Sabine Hake looks at the historical relationship between film and fascism and its far-reaching implications for mass culture, media society, and political life. In confronting the specter and spectacle of fascist power, these films not only depict historical figures and events but also demand emotional responses from their audiences, infusing the abstract ideals of democracy, liberalism, and pluralism with new meaning and relevance.
Hake underscores her argument with a comprehensive discussion of films, including perspectives on production history, film authorship, reception history, and questions of performance, spectatorship, and intertextuality. Chapters focus on the Hollywood anti-Nazi films of the 1940s, the West German anti-Nazi films of the 1950s, the East German anti-fascist films of the 1960s, the Italian "Naziploitation" films of the 1970s, and issues related to fascist aesthetics, the ethics of resistance, and questions of historicization in films of the 1980s–2000s from the United States and numerous European countries.
Subjects
Film and Media
/
History
/
Films
/
Nazism
/
Fascism
/
Cultural History
/
Political History
/
German History
/
Democracy
/
Nazi Germany
/
---
Hake, Sabine (NHC Fellow, 2010–11). Screen Nazis: Cinema, History, and Democracy. Wisconsin Film Studies. Madison: University of Wisconsin Press, 2012.