By Jeffrey R. Kerr-Ritchie (NHC Fellow, 2003–04)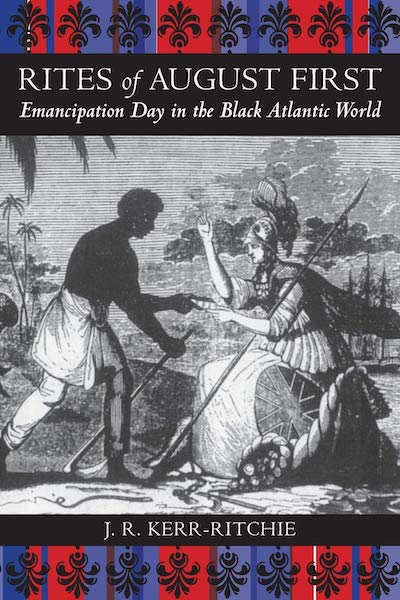 Baton Rouge: Louisiana State University Press, 2007
From the publisher's description:
Thirty years before Lincoln issued the Emancipation Proclamation, the antislavery movement won its first victory in the British Parliament. On August 1, 1834, the Abolition of Slavery Bill took effect, ending colonial slavery throughout the British Empire. Over the next three decades, "August First Day," also known as "West India Day" and "Emancipation Day," became the most important annual celebration of emancipation among people of African descent in the northern United States, the British Caribbean, Canada West, and the United Kingdom and played a critical role in popular mobilization against American slavery. In Rites of August First, J. R. Kerr-Ritchie provides the first detailed analysis of the origins, nature, and consequences of this important commemoration that helped to shape the age of Anglo-American emancipation.
Combining social, cultural, and political history, Kerr-Ritchie discusses the ideological and cultural representations of August First Day in print, oratory, and visual images. Spanning the Western hemisphere, Kerr-Ritchie's study successfully unravels the cultural politics of emancipation celebrations, analyzing the social practices informed by public ritual, symbol, and spectacle designed to elicit feelings of common identity among blacks in the Atlantic World. Rites of August First shows how and why the commemorative events changed between British emancipation and the freeing of slaves in the United States a generation later, while also examining the connections among local, regional, and international commemorations.
While shedding light on an important black institution that has been long ignored, Rites of August First also contributes to the broader study of emancipation and black Atlantic identity. Its transnational approach challenges local and national narratives that have largely shaped previous investigations of these questions. Kerr-Ritchie shows how culture and community were truly political at this important historical moment and, most broadly, how politics and culture converge and profoundly influence each other.
Subjects
History
/
Abolitionism
/
Emancipation Day
/
Slavery Abolition Act 1833
/
African Diaspora
/
Cultural History
/
Cultural Identity
/
Political History
/
---
Kerr-Ritchie, Jeffrey R. (NHC Fellow, 2003–04). Rites of August First: Emancipation Day in the Black Atlantic World. "Antislavery, Abolition, and the Atlantic World". Baton Rouge: Louisiana State University Press, 2007.