By Richard C. Trexler (NHC Fellow, 1997–98)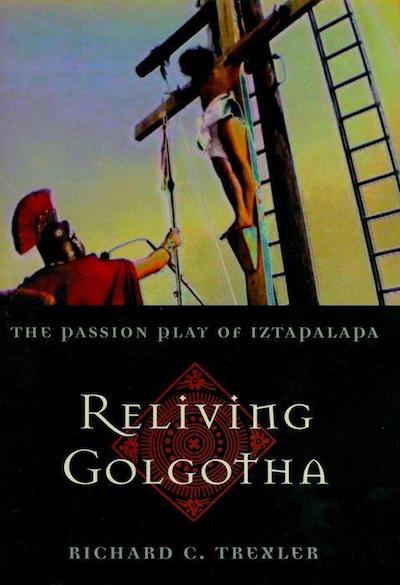 Cambridge, MA: Harvard University Press, 2003
From the publisher's description:
In Reliving Golgotha, Richard Trexler brings an important new perspective to religious spectacle in an engrossing exploration of the annual passion play at Iztapalapa, the largest and poorest borough of Mexico City.
After tracing the history of European passion theater, Trexler examines the process by which representations of the passion were established in the Americas, especially in New Spain. Indeed, the Iztapalapan pageant can only be understood in the full historical context of Mexican church and state relations. Originally, this passion was a quintessential means by which the increasingly marginalized indigenous population marked its own culture from the mestizo ruling class. Early twentieth-century reenactments offered a tenaciously traditional spectacle, featuring Nahuatl-speaking actors, for a local audience who embraced it as a living protest against the pervasive power of the Church. A century later, political disorder and a suspicious church hierarchy often forced the suspension of the play in the aftermath of the Revolution. But by the middle of the century, political and religious authorities encouraged its development as a tourist event, and changes wrought by media coverage and the impact of government funding have further fractured the play's local identity.
In addition to offering valuable insights into the political, social, and psychological meanings of religious spectacle, Trexler illuminates the strong cultural forces that have helped provide a voice for some of Mexican society's most powerless members.
Subjects
History
/
Religion
/
Passion Plays
/
Indigenous Peoples of Mexico
/
Rituals
/
Catholic Church
/
Mexican History
/
---
Trexler, Richard C. (NHC Fellow, 1997–98). Reliving Golgotha: The Passion Play of Iztapalapa. Cambridge, MA: Harvard University Press, 2003.