By Maurice Mandelbaum (NHC Fellow, 1985–86)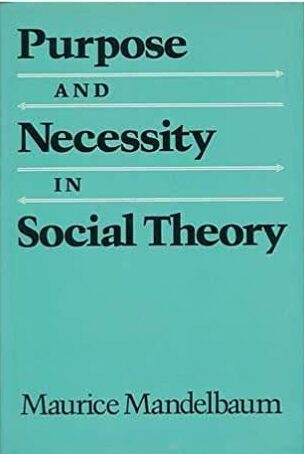 Baltimore: Johns Hopkins University Press, 1987
From the publisher's description:
Philosopher Maurice Mandelbaum offers a broad-ranging essay on the roles of chance, choice, purpose, and necessity in human events. He traces the many changes these concepts have undergone, from the analyses of Hobbes and Spinoza, through the eighteenth, nineteenth, and early twentieth centuries. Mandelbaum examines two contrary tendencies in the history of social theories. Some thinkers, he shows, have explained the character of institutions in terms of their individual purposes, whereas others have stressed relationships of necessity among society's institutions. Mandelbaum discusses chance, choice, and necessity at length and reaches some provocative conclusions about the ways in which they are interwoven in human affairs.
Subjects
Philosophy
/
Social Theory
/
Determinism
/
Rational Choice Theory
/
---
Mandelbaum, Maurice (NHC Fellow, 1985–86). Purpose and Necessity in Social Theory. Baltimore: Johns Hopkins University Press, 1987.