By Alison Keith (NHC Fellow, 2007–08)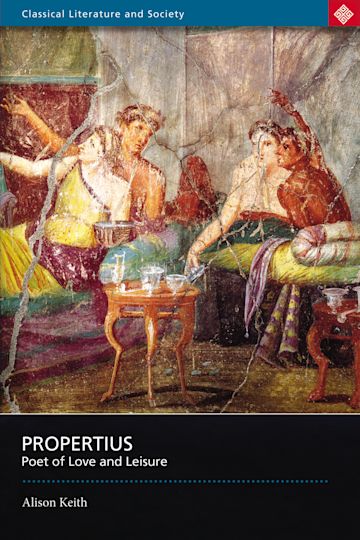 London: Duckworth, 2008
From the publisher's description:
In Propertius: Poet of Love and Leisure, Alison Keith explores Propertius' elegiac poetry in the context of early imperial Roman society. Examining a variety of themes associated with both Propertian poetics (such genre theory, poetic models, the girlfriend, the rival) and the poet's social context within the early Augustan principate (such as Roman imperialism, the elite male cursus honorum, Augustus' building projects) she offers a synthetic overview of Propertius' achievement in his four books of elegies. She considers the neglected relationship of rhetoric to Propertian elegiac poetics, as well as Propertius' debt to the classical literary tradition, and she explores themes in the corpus that reflect the Augustan imperial context in which Propertius lived and wrote. Arguing for neither a pro- nor an anti-Augustanism on display in Propertian elegy, Keith brings to light the multiple ways in which Roman imperial rule, the new pax Augusta, and new forms of elite Roman political competition intersect in and inform Propertius' poetry. The volume aims to contribute to our understanding of both Latin literature and Augustan culture its sustained exploration of refractions of the Roman 'imperialist enterprise' in Propertius' elegiac poetry.
Subjects
Fiction and Poetry
/
Classics
/
Poetry
/
Roman Literature
/
Roman History
/
Elegiac Poetry
/
Latin Literature
/
Elegies
/
Sextus Propertius
/
---
Keith, Alison (NHC Fellow, 2007–08). Propertius: Poet of Love and Leisure. Classical Literature and Society. London: Duckworth, 2008.