By John Philip Thomas (NHC Fellow, 1984–85)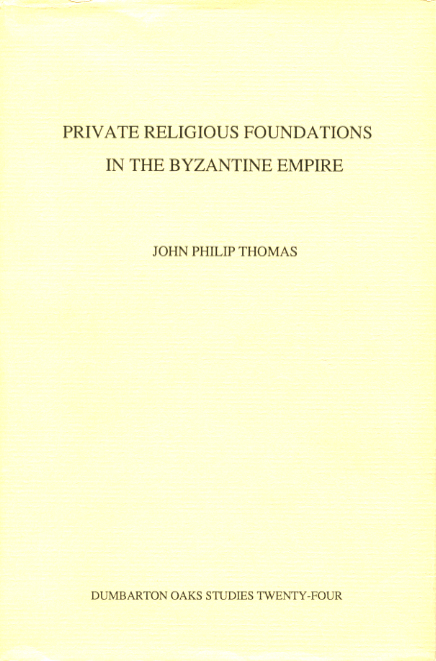 Washington, D.C.: Dumbarton Oaks Research Library and Collection, 1987
From the publisher's description:
Private religious foundations were prominent features of the ecclesiastical geography of the Byzantine Empire throughout its history. Since the hierarchy of the church generally lacked the financial resources necessary for undertaking ambitious building programs, laymen took the initiative in providing churches, monasteries, and philanthropic institutions such as hospitals and orphanages. These foundations were important not only for the religious life of the empire, but also for its social and economic life. Many socially prominent Byzantines sought the fame that came to the builder of such a foundation, and many more owned them as family inheritances. A private religious foundation could serve as the core of a considerable family fortune that was bolstered by tax exemptions and imperial donations of landed property.
John Philip Thomas examines the private ownership of ecclesiastical institutions in the Byzantine Empire, their nature, extent, and importance. For over a thousand years these foundations were closely bound to the fortunes of the empire and its ruling classes. More durable than either, they survived the fall of the Byzantine state itself.
Subjects
Religion
/
Byzantine Empire
/
Eastern Orthodox Church
/
Churches
/
Monasteries
/
---
Thomas, John Philip (NHC Fellow, 1984–85). Private Religious Foundations in the Byzantine Empire. Dumbarton Oaks Studies. Washington, D.C.: Dumbarton Oaks Research Library and Collection, 1987.