By Caroline Bruzelius (NHC Fellow, 2003–04)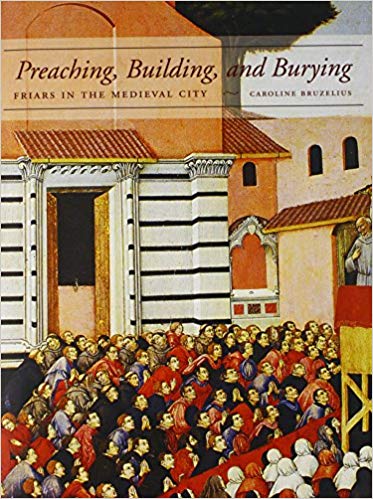 New Haven, CT: Yale University Press, 2014
From the publisher's description:
Friars transformed the relationship of the church to laymen by taking religion outside to public and domestic spaces. Mendicant commitment to apostolic poverty bound friars to donors in an exchange of donations in return for intercessory prayers and burial: association with friars was believed to reduce the suffering of purgatory. Mendicant convents became urban cemeteries, warehouses filled with family tombs, flags, shields, and private altars.
As mendicants became progressively institutionalized and sought legitimacy, friars adopted the architectural structures of monasticism: chapter houses, cloisters, dormitories, and refectories. They also created piazzas for preaching and burying outside their churches. Construction depended on assembling adequate funding from communes, confraternities, and private individuals; it was also sometimes supported by the expropriation of property from heretics. Because of irregular funding, construction was episodic, with substantial changes in scale and design. Choir screens served as temporary west façades while funds were raised for completion. This is the first book to analyze the friars' influence on the growth and transformation of medieval buildings and urban spaces.
Subjects
Architecture
/
Religion
/
Clergy
/
Cities
/
Urban History
/
Rituals
/
Middle Ages
/
---
Bruzelius, Caroline (NHC Fellow, 2003–04). Preaching, Building, and Burying Friars and the Medieval City. New Haven, CT: Yale University Press, 2014.