By Heather Hyde Minor (NHC Fellow, 2013–14)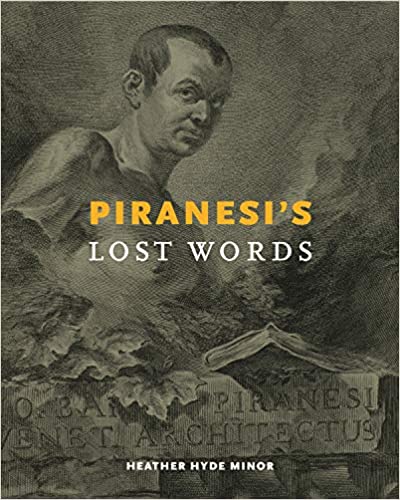 University Park: Pennsylvania State University Press, 2015
From the publisher's description:
Giovanni Battista Piranesi was one of the most important artists eighteenth-century Europe produced. But Piranesi was more than an artist; he was an engraver and printmaker, architect, antiquities dealer, archaeologist, draftsman, publisher, bookseller, and author. In Piranesi's Lost Words, Heather Hyde Minor considers Piranesi the author and publisher, focusing on his major publications from 1756 to his death in 1778. Piranesi designed and manufactured twelve beautiful, large-format books combining visual and verbal content over the course of his lifetime. While the images from these books have been widely studied, they are usually considered in isolation from the texts in which they originally appeared. This study reunites Piranesi's texts and images, interpreting them in conjunction as composite art. Minor shows how this composite art demonstrates Piranesi's gift for interpreting the classical world and its remains—and how his books offer a critique of both the Enlightenment project of creating an epistemology of the classical past and how eighteenth-century scholars explicated this past. Piranesi's books, Minor argues, were integral to the emergence of the modern discipline of art history. Using new, previously unpublished archival material, Piranesi's Lost Words refines our understanding of Piranesi's works and the eighteenth-century context in which they were created.
Subjects
Art
/
Art History
/
Antiquities
/
Authorship
/
Artists
/
Authors
/
Publishing
/
Giovanni Battista Piranesi
/
---
Hyde Minor, Heather (NHC Fellow, 2013–14). Piranesi's Lost Words. University Park: Pennsylvania State University Press, 2015.