By Sherry B. Ortner (NHC Fellow, 1999–00)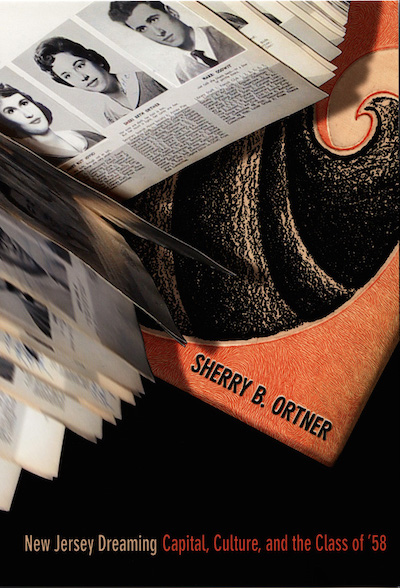 Durham, NC: Duke University Press, 2003
From the publisher's description:
Pioneering anthropologist Sherry B. Ortner is renowned for her work on the Sherpas of Nepal. Now she turns her attention homeward to examine how social class is lived in the United States and, specifically, within her own peer group. In New Jersey Dreaming, Ortner returns to her Newark roots to present an in-depth look at Weequahic High School's Class of 1958, of which she was a member. She explores her classmates' recollected experiences of the neighborhood and the high school, also written about in the novels of Philip Roth, Weequahic High School's most famous alum. Ortner provides a chronicle of the journey of her classmates from the 1950s into the 1990s, following the movement of a striking number of them from modest working- and middle-class backgrounds into the wealthy upper-middle or professional/managerial class.
Ortner tracked down nearly all 304 of her classmates. She interviewedabout 100 in person and spoke with most of the rest by phone, recording her classmates' vivid memories of time, place, and identity. Ortner shows how social class affected people's livesin many hidden and unexamined ways. She also demonstrates that the Class of '58's extreme upward mobility must be understood in relation to the major identity movements of the twentieth century—the campaign against anti-Semitism, the Civil Rights movement, and feminism.
A multisited study combining field research with an interdisciplinary analytical framework, New Jersey Dreaming is a masterly integration of developments at the vanguard of contemporary anthropology. Engaging excerpts from Ortner's field notes are interspersed throughout the book. Whether recording the difficulties and pleasures of studying one's own peer group, the cultures of driving in different parts of the country, or the contrasting experiences of appointment-making in Los Angeles and New York, they provide a rare glimpse into the actual doing of ethnographic research.
Awards and Prizes
J. I. Staley Prize (2004)
Subjects
Anthropology
/
Sociology
/
Local History
/
Secondary Education
/
Ethnography
/
---
Ortner, Sherry B. (NHC Fellow, 1999–00). New Jersey Dreaming: Capital, Culture, and the Class of '58. Durham, NC: Duke University Press, 2003.