By Michael Kulikowski (NHC Fellow, 2009–10)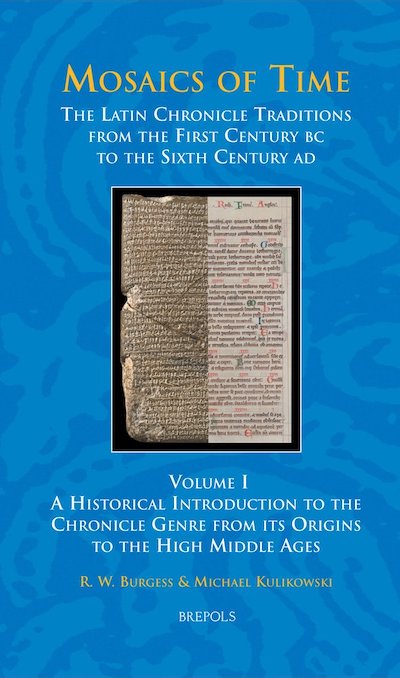 Turnhout, Belgium: Brepols, 2013
From the publisher's description:
The multivolume series Mosaics of Time offers for the first time an in-depth analysis of the Roman Latin chronicle traditions from their beginnings in the first century BC to their end in the sixth century AD. For each chronicle it presents a comprehensive introduction, edition, translation, and historical and historiographical commentary.
Chronicles seem to be everywhere in ancient and medieval history. Now for the first time, R. W. Burgess and Michael Kulikowski present a diachronic study of chronicles, annals, and consularia from the twenty-fifth century BC to the twelfth century AD, demonstrating the origins and interlinked traditions of the oldest and longest continuing genre of historical writing in the Western world. This introductory volume of Mosaics of Time provides both the detailed context for the study of the Latin chronicle traditions that occupies the remaining three volumes of this series as well as a general study of chronicles across three millennia from the ancient Egyptian Palermo Stone to the medieval European chronicle of Sigebert of Gembloux and beyond. The work is an essential companion to ancient and medieval history, historiography, and literary studies.
Subjects
History
/
Literature
/
Classics
/
Chronicles
/
History of Literature
/
Historiography
/
Ancient History
/
Primary Sources
/
Middle Ages
/
---
Kulikowski, Michael (NHC Fellow, 2009–10). Mosaics of Time: The Latin Chronicle Traditions from the First Century BC to the Sixth Century AD. Vol. 1, A Historical Introduction to the Chronicle Genre from Its Origins to the High Middle Ages. Studies in the Early Middle Ages. Turnhout, Belgium: Brepols, 2013.