By Thomas Pfau (NHC Fellow, 2010–11)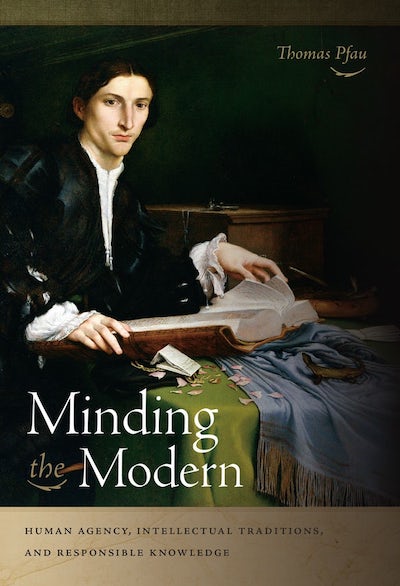 Notre Dame, IN: University of Notre Dame Press, 2013
From the publisher's description:
In this brilliant study, Thomas Pfau argues that the loss of foundational concepts in classical and medieval Aristotelian philosophy caused a fateful separation between reason and will in European thought. Pfau traces the evolution and eventual deterioration of key concepts of human agency—will, person, judgment, action—from antiquity through Scholasticism and on to eighteenth-century moral theory and its critical revision in the works of Samuel Taylor Coleridge. Featuring extended critical discussions of Aristotle, Gnosticism, Augustine, Aquinas, Ockham, Hobbes, Shaftesbury, Mandeville, Hutcheson, Hume, Adam Smith, and Coleridge, this study contends that the humanistic concepts these writers seek to elucidate acquire meaning and significance only inasmuch as we are prepared positively to engage (rather than historicize) their previous usages. Beginning with the rise of theological (and, eventually, secular) voluntarism, modern thought appears increasingly reluctant and, in time, unable to engage the deep history of its own underlying conceptions, thus leaving our understanding of the nature and function of humanistic inquiry increasingly frayed and incoherent. One consequence of this shift is to leave the moral self-expression of intellectual elites and ordinary citizens alike stunted, which in turn has fueled the widespread notion that moral and ethical concerns are but a special branch of inquiry largely determined by opinion rather than dialogical reasoning, judgment, and practice.
A clear sign of this regression is the present crisis in the study of the humanities, whose role is overwhelmingly conceived (and negatively appraised) in terms of scientific theories, methods, and objectives. The ultimate casualty of this reductionism has been the very idea of personhood and the disappearance of an adequate ethical language. Minding the Modern is not merely a chapter in the history of ideas; it is a thorough phenomenological and metaphysical study of the roots of today's predicaments.
Subjects
Philosophy
/
Humanism
/
Humanities
/
Agency
/
Free Will
/
---
Pfau, Thomas (NHC Fellow, 2010–11). Minding the Modern: Human Agency, Intellectual Traditions, and Responsible Knowledge. Notre Dame, IN: University of Notre Dame Press, 2013.