Edited by Harriet Ritvo (Trustee; NHC Fellow, 1989–90; 2002–03) and Jonathan Arac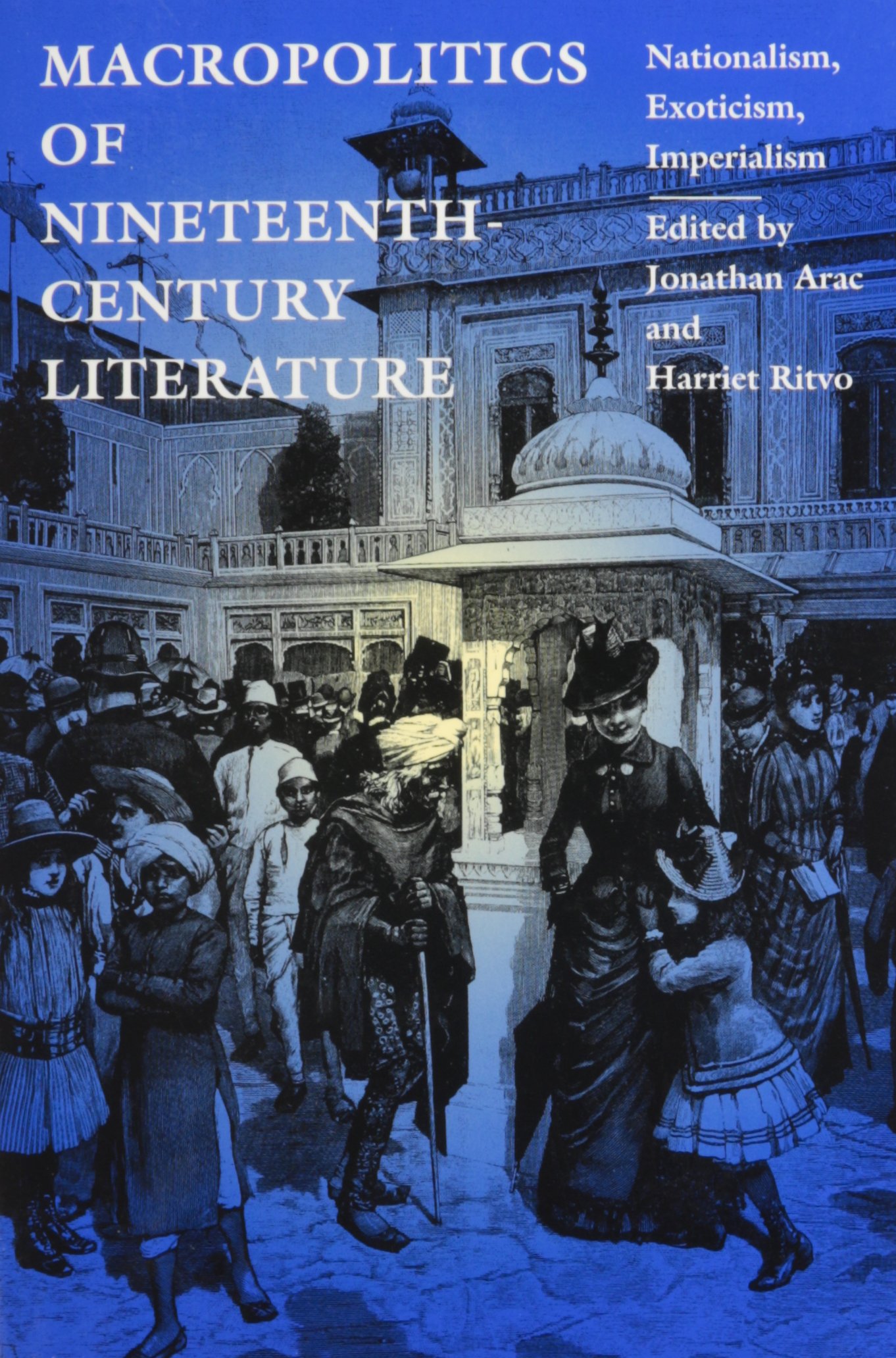 Philadelphia: University of Pennsylvania Press, 1991
From the publisher's description:
Increasingly in the last decade, macropolitics—a consideration of political transformations at the level of the state—has become a focus for cultural inquiry. From the macropolitical perspective afforded by contemporary postcolonial studies, the essays in this collection explore the relationship between politics and culture by examining developments in a wide range of nineteenth-century writing.
The dozen essays gathered here span the entire era of colonization and discuss the British Isles, Europe, the United States, India, the Caribbean, and Africa. Addressing the works of Wordsworth, Shelley, Dickens, Melville, Flaubert, Conrad, and Charlotte Brontë, as well as explorers' reports, Bible translations, popular theater, and folklore, the contributors consider such topics as the political function of aesthetic containment, the redefinitions of nationality under the pressure of imperial ambition, and the coexistence of imperial and revolutionary tendencies. New historical data and new interpretive perspectives alter our conception of established masterpieces and provoke new understandings of the political and cultural context within which these works emerged. This anthology demonstrates that the macropolitical concept of imperialism can provide a new understanding of nineteenth-century cultural production by integrating into a single process the well-established topics of nationalism and exoticism.
First published in 1991 (University of Pennsylvania Press), Macropolitics of Nineteenth-Century Literature is now available in paperback. Offering agenda-setting essays in cultural and Victorian studies, it will be of interest to students and scholars of British and American literature, literary theory, and colonial and postcolonial studies.
Subjects
Literature
/
Literary Theory
/
Colonialism
/
Postcolonialism
/
Imperialism
/
Political Culture
/
British Literature
/
American Literature
/
---
Ritvo, Harriet (Trustee; NHC Fellow, 1989–90; 2002–03), ed. Macropolitics of Nineteenth-Century Literature: Nationalism, Exoticism, Imperialism. Edited by Harriet Ritvo and Jonathan Arac. New Cultural Studies Series. Philadelphia: University of Pennsylvania Press, 1991.