By Andrew Cayton (NHC Fellow, 2012–13)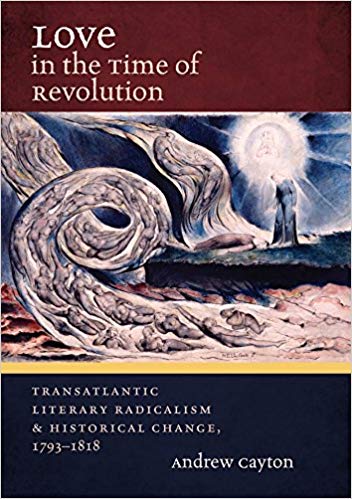 Williamsburg, VA: Omohundro Institute of Early American History and Culture, Williamsburg, VA, 2013
From the publisher's description:
In 1798, English essayist and novelist William Godwin ignited a transatlantic scandal with Memoirs of the Author of "A Vindication of the Rights of Woman." Most controversial were the details of the romantic liaisons of Godwin's wife, Mary Wollstonecraft, with both American Gilbert Imlay and Godwin himself. Wollstonecraft's life and writings became central to a continuing discussion about love's place in human society. Literary radicals argued that the cultivation of intense friendship could lead to the renovation of social and political institutions, whereas others maintained that these freethinkers were indulging their own desires with a disregard for stability and higher authority. Through correspondence and novels, Andrew Cayton finds an ideal lens to view authors, characters, and readers all debating love's power to alter men and women in the world around them.
Cayton argues for Wollstonecraft's and Godwin's enduring influence on fiction published in Great Britain and the United States and explores Mary Godwin Shelley's endeavors to sustain her mother's faith in romantic love as an engine of social change.
Subjects
History
/
Literature
/
American Literature
/
British Literature
/
Love
/
Radicalism
/
William Godwin
/
Mary Wollstonecraft Shelley
/
United Kingdom
/
---
Cayton, Andrew (NHC Fellow, 2012–13). Love in the Time of Revolution: Transatlantic Literary Radicalism and Historical Change, 1793-1818. Williamsburg, VA: Omohundro Institute of Early American History and Culture, Williamsburg, VA, 2013.